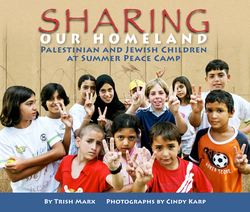 If people can be taught to hate, they can also be taught to respect and understand one another.
New York, NY (PRWEB) July 29, 2010
During most of the year, American children hear about Islam primarily as the religion of terrorists and extremists. The holy month of Ramadan—lasting from August 10 through September 8 in 2010—is a time of prayer, fasting, and purity for Muslims around the world. It can also be a time for non-Muslims to learn about Islam in peaceful contexts and come to understand Muslims as people who are like them.
SHARING OUR HOMELAND (ISBN 978-1-58430-260-5, $19.95, 48 pp., LEE & LOW BOOKS), written by Trish Marx and photographed by Cindy Karp, follows two children, an Israeli Jewish boy and an Israeli Palestinian girl, as they spend two weeks together at Givat Haviva Peace Camp in Northern Israel. There, Israeli Palestinian and Israeli Jewish children come together for two weeks to talk, learn, and play.
At the end of camp each year, campers walk away with respect for their neighbors and a better understanding of what their homeland means to both sides. "It's a camp that can change perspectives, futures, and perhaps the future of a country," says author Trish Marx.
In this time of conflict between Muslims, Jews, and Christians, SHARING OUR HOMELAND offers hope for the next generation, proving that if people can be taught to hate, they can also be taught to respect and understand one another.
ABOUT: Author Trish Marx has written many nonfiction books for children, including several on current events and environmental issues. Cindy Karp is a distinguished photojournalist who has worked around the world as a photographer for TIME and other publications.
ABOUT THE COMPANY: LEE & LOW BOOKS is an independent children's publisher focusing on diversity. It is the company's mission to meet the need for stories that all children can identify with and enjoy. Visit leeandlow.com to learn more.
###