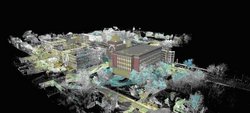 We wouldn't have this type of client in traditional land surveying environment. Today, laser scanners are used on about 70% of our projects and we continually receive calls from diverse customers seeking answers that we can help resolve with HDS™
Norcross, GA (Vocus) July 29, 2010
From golf courses to mine shafts, manufacturing facilities to city buildings, LandAir Surveying Co. in Roswell, GA is creating new and unique business opportunities with the help of high-definition surveying (HDS™) technology.
In business since 1988, LandAir Surveying specializes in site surveys and topographic surveys for a broad range of industries from telecommunications to transportation. A particularly challenging highway project prompted LandAir president, Tate Jones to invest in a HDS™ laser scanner.
Jones recalls, "We were asked to perform an as-built conditions survey of the I-20 Bridge over the Chattahoochee River west of Atlanta. Unfortunately the existing 8-lane bridge was so wide and long that we couldn't achieve the necessary accuracy with conventional tools. HDS™ technology provided the necessary solution to this problem and many more since then."
Today, the firm uses the HDS6100, HDS6000 and the ScanStation II laser scanners to facilitate projects that are both broad in scope and scale. The firm's surveyors have scanned a 160,000-sq-ft manufacturing site, an extensive subsurface mine, an entire downtown and even the greens of a popular Georgia golf course to help map underground drainage pipes.
"We wouldn't have this type of client in traditional land surveying environment. Today, laser scanners are used on about 70% of our projects and we continually receive calls from diverse customers seeking answers that we can help resolve with HDS™," says Jones.
For more information on the latest HDS™ technology: http://www.leica-geosystems.us/en/HDS-Laser-Scanners-SW_5570.htm.
For more about LandAir Surveying's use of laser scanners and Tate Jones advice to other surveyors interested in expanding their business with laser scanners, see the next issue of The American Surveyor. http://www.amerisurv.com
Leica Geosystems – when it has to be right
With close to 200 years of pioneering solutions to measure the world, Leica Geosystems products and services are trusted by professionals worldwide to help them capture, analyze, and present spatial information. Leica Geosystems is best known for its broad array of products that capture accurately, model quickly, analyze easily, and visualize and present spatial information.
Those who use Leica Geosystems products every day trust them for their dependability, the value they deliver, and the superior customer support. Based in Heerbrugg, Switzerland, Leica Geosystems is a global company with tens of thousands of customers supported by more than 3,500 employees in 28 countries and hundreds of partners located in more than 120 countries around the world. Leica Geosystems is part of the Hexagon Group, Sweden.
To view this release on the web please click here: http://www.leica-geosystems.us/en/News_56320.htm?id=2532.
For further information, please contact:
Andre Ribeiro
Director of Marketing
Norcross, GA 30092
Phone: (770) 326-9557
http://www.leica-geosystems.us
###