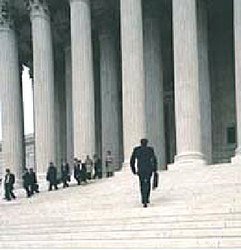 You can incorporate your business, or form a limited liability company, but that alone will not protect you from personal liability for business debt.
Agoura Hills, CA (PRWEB) July 30, 2010
Protect Yourself From Personal Liability - Five Tips for Getting and Keeping Limited Liability
Small business owners can find themselves unsure about what they need to do in order to properly maintain their company records and avoid personal liability. "You can incorporate your business, or form a limited liability company, but that alone will not protect you from personal liability for business debt," says Erin K. Tenner, a corporate attorney in Agoura Hills, California. Tenner recommends five practices to follow after forming a corporation or limited liability company to preserve your limited liability:
1. File Your Statement of Information Annually. File a Statement of Information with the Secretary of State every year. If you don't, you can be charged a penalty or have your corporation or limited liability company suspended by the state. That means you can't defend yourself if you get sued without paying for reinstatement. Reinstatement will be much more expensive than the normal filing fee.
2. Prepare Annual Minutes. You do not need to file minutes anywhere except in your minute book. Do not respond to mailers telling you that you will be penalized for not filing minutes. They are a scam. They also charge more than most attorneys would for preparing resolutions. Have your attorney prepare an annual consent to action for all matters outside of the ordinary course of business and to elect officers and directors (or managers and officers for a limited liability company). A consent to action is less costly than minutes because no notice or waiver of notice is required. Although limited liability companies are not required by law to document actions by members or managers, it is best to observe these corporate formalities because trial courts are ruling that such formalities are necessary, especially for single member limited liability companies.
3. Adequately Capitalize Your Entity From Day One. When you form a new entity open a new bank account for the entity. The initial deposit into the bank account will be your initial capital. Initial capital needs to equal at least 20% of company initial liabilities. So, for example, if you have signed a lease for one year with an annual rent of $100,000, your initial capital needs to be at least $20,000.00.
4. Keep Personal Expenses Separate From the Corporation. Do not run any personal expenses through the corporate or LLC bank account. If you do, you risk losing your limited liability. Courts will consider whether you treated the entity as separate from yourself when assessing personal liability. If you comingle funds, your entity will not be treated as separate and you will lose the limited liability protection of your corporation.
5. Don't Pay Expenses That Belong to One Entity, Out of Another Entity. Even if one company needs the write off, using it to pay the obligations of another company could jeopardize your limited liability. Instead, make a loan by one company to the other. Make sure the loan is documented by a promissory note and authorized by resolutions of both the borrowing company and the loaning company. If the loan cannot later be repaid, the company may be able to write it off as a bad debt. The company that owes that money would have to take the forgiveness of indebtedness into income, but if it has a lot of losses, it can write off the losses against the income.
This Article should not be relied upon as legal advice. Each situation and applicable laws vary from state to state. Contact your attorney for specific legal advice. Law Offices of Erin K. Tenner is a partner in TennerJohnson LLP. For questions or comments Erin Tenner can be reached at 818-707-8410 or toll free at 888-501-0040.
###