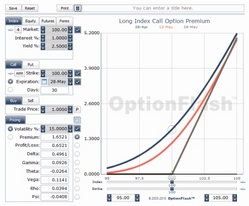 Options continue to be the fastest growing financial instrument worldwide.
Chicago, IL (PRWEB) July 30, 2010
The Applied Research Company, a financial application design and consulting firm, today announced the launch of OptionFlash™, an online option calculator that can be private labeled and embedded into any financial website.
Developed with Adobe® Flash® technology, OptionFlash™ calculates theoretical value, implied volatilty and Greeks for index, equity, futures and forex options. An intuitive interface allows users to perform complex option analysis over a variety of scenarios. Results are displayed in attractive tables and graphs which are branded with the licensee's logo.
A branded version of OptionFlash™ is available for an annual flat fee per domain. There is no end-user signup necessary and there are no per user fees. A free, ad-supported, linked version is also available.
OptionFlash ™ is hosted remotely so there are no maintenance responsibilities on the part of the licensee. Updates are distributed seamlessly and initial installation can be completed in minutes.
"Options continue to be the fastest growing financial instrument worldwide," says John C. Nelson, President of The Applied Research Company. "The demand by new option traders for educational and reference material will continue to grow. Financial websites that lack this information risk losing visitors to those websites that offer unique and relevant content. Adding OptionFlash to an existing website is an easy and inexpensive way to attract and retain web traffic from this growing demographic."
More information including demos of OptionFlash™ can be found at http://www.OptionFlash.com.
Adobe® Flash® is a registered trademark of Adobe Systems, Inc in the United States of America and/or other countries.
About The Applied Research Company
The Applied Research Company assists companies in the design, development, and delivery of financial software applications. Since 1985, The Company has helped a variety of organizations create user-centered, robust solutions. Clients include software providers, brokers, proprietary trading firms, and financial exchanges throughout the world.
Contact
John C. Nelson, President
The Applied Research Company
http://www.AppliedResearch.Com
info@AppliedResearch.Com
312.922.7882
###