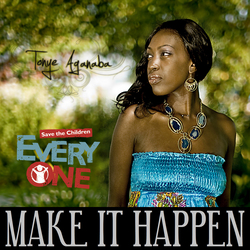 "Every child is born with the right to live, but not an equal chance"
Vancouver (PRWEB) July 30, 2010
Vancouver-based Zimbabwean/Nigerian soul singer-songwriter Tonye Aganaba has teamed up with Lebanese producer Wael Halabi Hakim to release a music video for Save the Children titled "Make It Happen". The project was inspired by the personal experiences both have had watching people suffer in their respective homelands. The video is an artistic conceptual story about two different worlds, their similarities, their differences and how we can help make change. The theme behind the video is children playing soccer, which is an international sport everyone around the world can relate to. The money raised by the music video will be donated to the "Every One" campaign, whose objective is to end children suffering from basic illnesses in third world countries. The single "Make it Happen" is produced by Tobias Schuch and can be found in all online major music outlets such as iTunes and Amazon starting August 11, 2010.
The artist Tonye Aganaba was born in London, England on October 24th 1985 to a Nigerian father and Zimbabwean mother. She recently opened for international artists like Talib Kweli and Sean Paul at some of the biggest venues around Vancouver like the Vogue theatre. It is said that every time she performs she creates a new shockwave to the Vancouver music scene. She also runs a non-profit organization called "The Living Society", which focuses on teaching underprivileged people the basic fundamentals of music and the positivity it can bring in their lives. She is currently working on her debut album which is set for release later this fall. As Tonye was growing up, she visited developing countries in Africa and saw how children were suffering from illnesses and lack of basic needs. Her mother runs a rape shelter in South Africa, which also played a role in evoking her need to help people. Working with Save the Children has always been a passion of the artist. She wrote the song "Make it Happen" after reading that "this year almost nine million children around the world could die from basic illnesses before their fifth birthday." Being a mother of a 5 year old daughter, Tonye values all children and believes in the cause and making a difference. Every child is born with the right to live, but not an equal chance ("Every One" slogan). The goal behind the video is to create change and build an equal chance for the future of all children alike.
The producer and music director Wael Halabi Hakim was born in Beirut, Lebanon on November 28 1986. Growing up in a land witnessing conflict, wars and tragedies, Wael was determined to make the world a better place. At the age of 18, Wael opened an event production company with his partner called "The Sound of United Clubbers". They pioneered several forms of events which boosted the Lebanese economy. After attending university, he travelled to Vancouver to continue his education at the Vancouver Film School to adopt techniques that he can use to fulfill his passion.
The premiere of the video will be held at Studio 538 in downtown Vancouver on August 11, 2010 with an international release to all major online retail outlets on the same day. The production of the music video is: directed and edited by Sencer Yalcin, cinematography by Brendan Preston, casting by Bhadnet Kahsay, and visual effects by Ehab Kamal and Ana Mendez. To learn more about the artist or the "Make it Happen" music video, please visit http://www.TonyeAganaba.com.
###