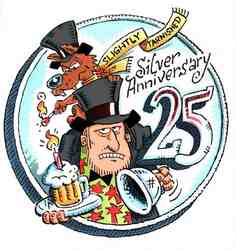 Everyone is looking for a fun 'escape' at one time or another, and that's exactly what Dick's is.
Nashville, TN (Vocus) July 29, 2010
Dick's Last Resort is celebrating its 25th year by relishing its success thus far, but the company also has a keen eye trained on the future, and what that means in terms of upcoming pursuits and growth. Since its start in Dallas back in 1985, the restaurant chain has been all about breaking a few rules and being a bit irreverent, and Dick's plans on holding onto its history while finding ways to continue to improve the concept.
Change is Good
This 25-year-old concept that refuses to grow up, but that continues to grow, has experienced big changes since the beginning of 2009, including –

Coming under new ownership in the waning days of 2008
Preparing to refresh the brand and give new life to Dick
Planning for expansion – a new location opened in Baltimore in June 2010, with plans for yet another location tentatively scheduled to open in late 2010.
The new management team's attraction to the brand was that its model had it poised for growth, even during an economic storm. The brand estimates that up to 70% of its guests may be out of town visitors, and it caters to all sizes and types of parties, ranging from a family of four to a tour group of 30 people.
To that end, Dick's restaurants tend to be near the entertainment districts or sports hubs in high-volume destination locations. This strategy may be what's led the chain to be able to keep single digit sales increases consistent across all restaurants.
"Everyone is looking for a fun 'escape' at one time or another, and that's exactly what Dick's is," said Ted Moats, CEO of DLR Restaurants LLC. "We're a great place to enjoy some good food, friends and fun, and to just get away for a bit, whether you're on a vacation or you're on a 'staycation' in your hometown.
Celebrating 25 Years
Guests may notice a few changes in the restaurants to help mark Dick's "Slightly Tarnished" Silver Anniversary, including trivia games and prizes that take us all back to 1985. For the occasion, Dick's famous "Sampla Platta" has been renamed the "Silver Sampla Platta," and guests can buy or win new commemorative 25th anniversary beer glasses. Plus, we've erected a shrine in each location where guests can wish Dick a happy anniversary or even leave him an impromptu gift.
Dick's Last Resort Celebrates 25 Years of Success – 2
Entertainment With a Twist
Known for its particular brand of service with an attitude, the wisecracking servers at Dick's have always played a central role to the brand's personality. So much so, in fact, that Dick's actually has servers audition for their positions to ensure they can be as much entertainer as they are server.
"We've got 25 years experience knowing what kind of person is going to make a good server here at Dick's, so we are very particular about the folks we invite to join our team," said Moats.
Beyond the snark from the servers, Dick's is well known for its casual dining menu and bringing in local talent for live music. Even the musicians are auditioned not just for their performance, but also for whether they can keep things fun and interesting in the traditional "Dick's" manner.
And taking it a step further, the brand is looking for technology to play a larger role for in-restaurant entertainment, with wacky music and video mash-ups, created by in-house video DJs, shown on flat screens or built-in video walls.
It's also fun to simply look at the walls in each of the eight locations – especially in Dallas where there's 25 years worth of collectibles hanging around. Management undergoes something akin to a treasure hunt for each restaurant, looking for décor that incorporates icons and elements from the local area. Everything on the walls is considered through the lens of "Would Dick have thought this was cool, or would he have found a way to mock this because someone else thought it was cool?"
Heart of Gold
Underneath Dick's prickly exterior, though, lies a heart of gold. The brand has always been deeply committed to supporting the men and women in the military, as well as children's charities in each of its markets. From donations to benefit events in restaurant, the brand estimates it has donated hundreds of thousands of dollars to various charities over the years.
What's Next?
What's up next for this brazen 25-year-old brand? Plans for expansion are on the minds of the management team, as well as finding ways to keep Dick relevant. With one location opened in Baltimore in June, and another location in the South planned for late 2010, the team is moving full steam ahead scouting for additional spots for expansion.
"We're constantly thinking, 'What's next for Dick?' Whether it's new places for him to hang out, or looking for ways to keep our existing customers happy while introducing a whole new crowd to Dick's," said an enthusiastic Moats. "We're updating our look, and we're using social media to connect with our fans, and to answer to some of our critics. Dick's is celebrating 25 years, but we're certainly not resting on our shorts-clad laurels."
Dick's Last Resort Celebrates 25 Years of Success – 3
About Dick's Last Resort
While most restaurants see their primary business as serving food, at Dick's Last Resort, we've been serving up fun for all, all in fun, for 25 years now. Our joints are as well known for our servers' attitudes as we are for our great menu and live entertainment. DLR Restaurants LLC, headquartered in Nashville, owns, operates and licenses all eight Dick's Last Resort restaurants. The concept originated with our Dallas location back in 1985, but we've now added seven additional restaurants in destination locations Baltimore, Boston, Chicago, Myrtle Beach, Las Vegas, San Antonio and San Diego. If you want to know more, check us out at http://www.dickslastresort.com. Or join the Dick's Last Resort party on Facebook - http://bit.ly/bPcXW3.
###