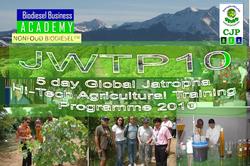 What are the conditions needed for Jatropha to be profitable as a biodiesel crop?
(PRWEB) July 30, 2010
CJP's Global Jatrophaworld Training 2010(JWTP10) from September 20-24, 2010 the most authoritative platform is all set to provide the answer. JWTP10 is the only Jatropha Optimization Platform, providing investors, growers, plantation developers and research agencies access to an improved up-to-date understanding of the Jatropha System, the A-Z of Jatropha Production: Propagation, Cultivation, Pruning, Harvesting, Oil Extraction via: Planting - the science and technology ensuring that this crop is planted in the right way and with due cares to what's possible in terms of sustainable farming
The Food and Agriculture Organization has advocated the use of Jatropha for producing bio-diesel and said the crop can help farmers improve their financial condition in dry areas.
"Using the energy crop Jatropha for bio-diesel production could benefit poor farmers, particularly in semi-arid and remote areas of developing countries," said a report published by the Food and Agriculture Organization (FAO) and the International Fund f or Agricultural Development (IFAD).
International Air Transport Association has called for biofuels production from Jatropha or other sustainable feedstocks to replace jet fuel made from oil, which has the potential to reduce the industry's carbon footprint by 80%
Jatropha has firmly entered the consciousness of vegetable oil and biodiesel market participants in recent years. Claims and counter claims are made for and against the crop, with little substantive evidence emerging on either side. Investment decisions, corporate strategies and government initiatives are being founded on economic analysis which is often less than robust. While Jatropha holds a great deal of potential as a biodiesel feedstock, it is also important to acknowledge many hurdles must be overcome before the crop can become economically viable in most parts of the world. with so many new projects coming up, and a lack of understanding of the Jatropha Curcas Plant and reliable information; lack of QPM inputs; lack of Best Agricultural Practices and expertise & poor management techniques ; many projects are only achieving mediocre results
Jatropha Curcas grows reasonably well in dry areas and also on degraded soil that are marginally suited for agriculture. The Jatropha Curcas L plant is an 'energy species', but it needs to be domesticated as a 'tree crop' for widespread commercial cultivation & application. In order to achieve commercial perfection, it is crucial to understand the crop's requirements, predict its possible interactions with the environment & develop packages of practices for industrial cultivation. Having committed to socially and environmentally responsible cultivation of Jatropha, Centre for Jatropha Promotion & Biodiesel (CJP) is organizing the Global Jatrophaworld Training 2010 (JWTP10) in India from September 20-24, 2010. The JWTP10 shall provide a definitive guide to the profitability of Jatropha cultivation around the globe by identifying the conditions that will return a margin — and those that will not. It shall also provide answer to the question "What are the conditions needed for Jatropha to be profitable as a biodiesel crop?" by summing up the most recent data on the cultivation, seed harvesting, processing, uses and genetic improvement of Jatropha,
While talking on JWTP 10, Mr. S.S.Mishra Director(Training) said, "The Global JatrophaWorld Training 2010 is a must attend Programme as it is a programme where you shall study & learn the Jatropha, other nonfood oil crops in totality from the top scientists, experts and technologists; where you shall understand the nonfood oil crop Science and Obtain accurate and authentic information; where you shall updates on latest technological developments and evaluate the biodiesel investment profitability."
He further added "To create, build and succeed in the growing world of biodiesel you need complete and comprehensive knowledge of Plant science and Plant technology and just registering yourself for the mega happenings in the Jatropha world, you can ensure the same as this is the only platform to understand & learn, to plan and execute, the best expertise to discuss and analyze the present and future dynamics of Jatropha, other nonfood oil crops"
For registration and further information, kindly contact
Director (Training Division)
Centre for Jatropha Promotion & Biodiesel
TELE- +91 141 2335839
FAX: (+91) 141 2335968
MOBILE- (+91) 9829423333,
http://www.jatrophabiodiesel.org
About Centre for Jatropha Promotion & Biodiesel (CJP)
CJP has the privilege to provide most authoritative Knowledge platform known for Development of Sustainable Non-Food Jatropha Oil Crop Projects, Programmes and Priorities to Feed Biodiesel Industry Worldwide and has established the Biodiesel Business Academy (BBA) to provide quality, impartial, informative and enjoyable advanced level training with enhanced technology in the field of Biodiesel production. The BBA delivers Training to international and national participants/professionals of green energy industry to increase and distribute knowledge and skills. Whether you are new to the industry, have recently changed jobs or simply wish to refresh your knowledge, our training should become a key part of your personal or company professional development programme.
CJP is dedicated to the development of oil seed bearing trees (OSBT) -- non-food multiple vegetable oil plantation and technologies in order to reduce dependence on fossil fuels, bring greater control and security of fuel supply and reduce dangerous climate changing emissions, including CO2.
CJP is pioneering the science, planting and production of inedible vegetable oils by planting of a variety of tree and non-food crop plantation.
CJP is engaged in scientific commercialization of non-food fuel crop- that designs and implements the growing of various oil seed bearing tree (OSBT) crops worldwide in a structured Agri-Supply chain, Value additions of inedible oil seeds and research activities thereon & provides support/services from "Soil to Oil" for development and establishment of the non -food Bio-fuel crops.
CJP use its proprietary knowledge to implement programmes through its expertise, technology and IPR knowledge creating new industry and job creation and the offsetting of climate change.
About JatrophaWorld Training 2010(JWTP10)
based on its proprietary knowledge plant science expertise enhanced technology and extensive experience and by integrating technical and managerial issues CJP has developed Jatropha Agricultural Training package (JWTP) to deliver Competencies through Qualified trainers with a practical 'hands on' approach. The 5 Days Global Jatropha Hi-Tech Agricultural Training Programme shall be from September 20-24, 2010 in Rajasthan, India.
Jatrophaworld Training Programme 2010 shall be a sole solution to all prospective stakeholders to know the Jatropha in real form from Plant science to Plant technology. JWTP10 is unique because of the capability to deliver an integrated "One Stop Solution" for Agri-Fuel business operations to the agricultural and energy sector worldwide.
Since this is Not a Conference, It is A Hi-Tech Training Programme, the Seats are Limited
Mail to jatrophatraining(at)gmail(dot)com or call +91 9829423333
###