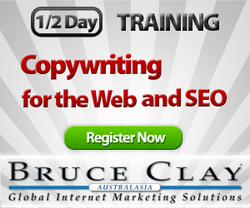 (PRWEB) July 30, 2010
The copywriting training is based on over 10 years of search engine research and successful SEO projects for clients. In addition to already proven material, the 2010 course includes new information on emerging SEO trends and strategies as they relate to copywriting.
The course will incorporate the latest search engine developments and guidelines, covering:

How to write for a search engine
Keyword research for copywriters
Improving click-through rates
Content that sticks
Analysing your content from a search perspective
How to use the Bruce Clay tools to determine optimal keyword density
How to use associated words and stemming to your advantage
A look at user experience and simple conversion tactics
The cost of the Bruce Clay Copywriting for the Web and SEO training course is $495, excluding GST, with discounts available for multiple bookings.
The first course will take place at the Menzies Hotel in Sydney on August 25th.
For more information about Bruce Clay training courses please call 02 9252 1700 or visit our training page.
Further Information:
Bruce Clay Australia is a leading provider of Internet Marketing Services, with an emphasis on Search Engine Optimisation (SEO). Bruce Clay Australia is part of Bruce Clay Inc. and provides SEO services, SEO training and SEO tools to the Australian and New Zealand markets. As developers of the SEOToolSet™, Search Engine Relationship Chart®, SEO Code of Ethics, and many search optimisation technologies, we are one of the most well known and reputable SEO firms in the world. There are currently offices in North America, Europe, Asia and Australia and we continue to expand rapidly.
###