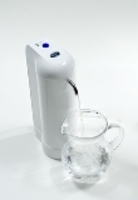 A single household switching from bottled water to Glow UV400 saves the environment up to 15,000 empty plastic water bottles each year!
Westlake, OH (PRWEB) July 29, 2010
Easily installed, simple to use and ecologically sound, Glow UV400 delivers an unlimited quantity of safe, delicious mineral water at the touch of a button. Both a water purifier and filter, the Glow UV400 is designed for everyday household use. Quality built in Sweden, the Glow UV400 filter and patented ultraviolet purification system delivers germ and disease-free water instantly.
Connecting the Glow UV400 to an existing faucet or directly to the water line is simple! With its convenient, flexible connection options, the Glow UV400 raises the bar in the current drinking water marketplace, out-performing existing appliances even as it provides cleaner, safer, better tasting water, without the environmental waste or expense of even the best bottled water alternatives.
Unsafe water is a growing concern for many Americans, as the infrastructure delivering city water ages and rural wells are subject to the contaminants increased population brings. Further, while the water from city systems is normally chlorinated to prevent multiplication of migroorganisms, chlorine tastes and odors are unpleasant. Glow UV400, with its carbon block filter and UV chamber, reduces harmful contaminants, foul tastes and odors and effectively destroys disease-causing bacteria and viruses in drinking water.
Get the complete Glow UV400 story at http://www.glowuv.com .
ETL Certified and guaranteed trouble-free, Glow UV400 is the environmentally and fiscally responsible alternative to bottled water. Many brands of bottled water are often just filtered tap water.
Today a gallon of premium bottled water costs TWICE as much as a gallon of gasoline.
MAJOR Price Break: Now for a limited time, only $287 complete with free shipping and two free reusable water bottles. Distribution is direct from the U.S. importer at: http://www.glowuv.com.
###