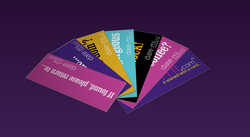 (PRWeb UK) July 31, 2010
We all have a mate that needs a gentle shove when it comes to dating, and online dating newcomers, date-mi-mate.com, believe they may have found the solution – small, customisable "cupid cards".
These unique "cupid cards" are linked to an online profile allowing anyone to approach potential dates for their mates. This fusion of the online and offline worlds adds a new twist to dating, as CEO Sufian Abdullah explains: "We feel that the whole dating experience should be fun and new technology should enhance the experience and not try to replace it with hours of online surfing. Dating has always involved our friends and family and date-mi-mate.com allows this natural behaviour to continue. The confidential nature of the unique cards is also central to our offering, allowing friends to act spontaneously with complete peace of mind that no personal information has been distributed."
Offline research has shown that the cards will be particularly popular with young lads having a laugh with their mates, but amongst the thirty somethings it's the females that are predicted to take the lead, with the Sex and the City generation always eager to help their friends find "Mr Right". Nicola, a 32-year-old married woman from London, had this to stay about her close friend Jane who has been single for nearly 2 years: "Jane is very intelligent, attractive and has a great career. She's never enjoyed approaching men, however, so I decided to buy her some cards and handed them to guys that I thought she might like to meet (and a couple that, if I'm honest, I actually just wanted to talk to myself, lol). Jane has been contacted by a handful of the lucky men and has now been on 3 dates. As I have already met them in person, Jane knows they will be her type on the surface at least. It is then up to her to take it from there….. : )"
The cards come in a series of designs ranging from old school to flirty and a personal message can be created for the reverse of the cards. A set of 100 cards costs £14.95+p&P and there are no joining fees or subscription costs. For added confidentiality the cards are unique and once a profile connection has been requested from the code on a card the card then becomes invalid.
There is no facility to search for profiles online. If a recipient enters the code on a card a public profile is viewed and they can then request a connection, only if this is accepted can a private profile be accessed. The cards can be used as an icebreaker, a bit of fun and a first step in making a new connection.
A new development coming shortly is the ability to have images printed on the cards – this means that when a potential date is approached it is blatantly obvious that you are not the singleton.
The cards make an ideal personal gift and could transform the life of a mate. As the friend you get to flirt and all in a good cause.
For more information visit date-mi-mate.com.
date-mi-mate.com is a wholly owned subsidiary of planet-mi.com
planet-mi.com aims to provide innovative products and solutions that help you manage the important connections in your life.
For more information please visit http://www.planet-mi.com or email marketing(at)planet-mi(dot)com.
###