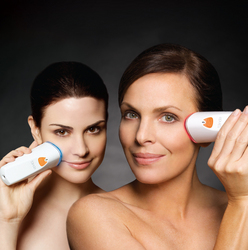 You can also give your hydration in boost in only minutes by using the Tända Regenerate red light therapy treatment.
Cambridge, ON (PRWEB) July 30, 2010
What it is: Follow these five easy tips and get glowing with natural, healthy, beautiful skin.
1. Start with a Clean Palette
This steamy weather means more active oil glands and perspiration makes dirt cling to your skin. Give your face an extra cleansing each day and always clean your face after strenuous activity. The summer heat can also aggravate skin leading to increased sensitivity and sebaceous secretions.
After cleansing, use Tända Clear blue light therapy on blemishes or blemish-prone areas. This natural treatment will clear and prevent breakouts without any of the nasty side-effects of chemical-based treatments – no irritation, dryness or redness. Find out more about how blue light works!
2. Out with the Old, In with the New
Experts say the best way to keep your skin looking soft and smooth in the summer is with regular exfoliation. This gets rid of dead, dry skin cells.
Use a washcloth, loofah, buff puff, or any number of the microdermabrasion creams or tools that are now on the market, Wet your entire body in the bath or shower. Apply exfoliating cleanser to your loofah or washcloth, and scrub, using gentle, circular motions. Exfoliated skin will help self-tanners go on more smoothly, making them less likely to streak and prevent your glow from fading prematurely.
3. Hydrate, Hydrate, Hydrate
During these summer months, keeping your skin hydrated is vital in order to avoid any unnecessary, not to mention unattractive dryness. Hydrate your skin by making sure that you are drinking enough water and also using a quality moisturizer. Use it after you exfoliate, shave, and shower. In particular, moisturizing after you shave puts the skin barrier back until your own body can do it.
You can also give your hydration in boost in only minutes by using the Tända Regenerate red light therapy treatment. Three out of four women noticed an immediate improvement in hydration after using the Tända Regenerate for only 3 minutes!
4. Protect Yourself
There are lots of things you can do to make skin look good, but the most important thing is sun protection.
Everyone should wear a sunscreen with SPF of 15 or higher with a broad-spectrum agent that protects against UVA and UVB rays. Apply generously and make sure you put on enough to cover your entire body, no matter how much it takes. Sunscreen takes 15 to 20 minutes to kick into high gear, so apply it before you leave the house, not when you get to the beach. It is also important to reapply it frequently - sunscreens should be reapplied every two hours or after swimming or perspiring heavily.
5. Be Smooth and Sleek
Summer sun means bare legs, short sleeves and bikini lines! Being well-groomed means making sure that all your parts are smooth and hair-free.
A good shaving strategy is to shave in the opposite direction from which hair grows. In places where hair grows in different directions and in hard-to-reach areas such as underarms and the bikini area, try pulling the skin slightly, making it more taut and easier to shave.
Nothing can ruin the look of a clean shave like ingrown hairs or a razor burn. The Tända Clear blue light therapy is a great solution to clear up ingrown hairs that are as a result of the same bacteria that causes acne. The Tända Regenerate red light therapy can reduce the inflammation and redness associated with razor burn.
You could also try waxing or laser hair removal for solutions that last longer than daily shaving. The Tända Regenerate is great after both of these treatments to reduce redness, swelling and inflammation.
About Pharos Life:
Pharos Life Corporation is the world's largest developer and manufacturer of hand held light therapy products. Sold under the brand name Tända, products include treatments for acne, anti-aging and pain management. The company is dedicated to the development of innovative light-based technologies and the supply of affordable, at-home, non-invasive light therapy solutions that improve wellness and quality of life.
For more information:
Courtney Turner ext. 262
Rose Mastnak ext. 258
Pharos Life Corporation
519.651.1177
###