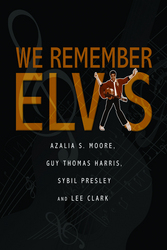 Pittsburgh, PA (Vocus) July 30, 2010
This story is the telling of four close friends of Elvis, and their lives growing up together. Individuals who visit the Elvis Birthplace Park ask questions about Elvis's life and death that can be answered with factual data and intimate family knowledge about the famous performer. Each of the storytellers who created this book has a personal collection of documents and journals that enables them to answer these questions.
RoseDog Books is pleased to announce the publication of We Remember Elvis ($28.00) ISBN: 978-1-4349-9856-9, casebound. For more information, please contact RoseDog Books, at 701 Smithfield Street, Pittsburgh, PA 15222. To place a book order or to learn important information about shipping prices, tax, and our return policy, please call (800) 834-1803.
###