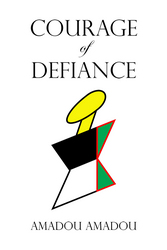 Pittsburgh, PA (Vocus) July 30, 2010
Courage of Defiance is a book about the story of a grandmother, courageously determined to use her affliction with breast cancer as a source of inspiration to educate one of her grandsons about the endless love and mercy of the creator. She draws her strength from everything in the environment including the trees and animals of the jungle to the twinkling stars above in the sky to deal with the excruciating pain and lows of her sickness. True to her courage, she remained defiant to her sickness till the end!
Amadou Amadou is the pen name for Adam M Ahmed. As a young man growing up in the northern region of Ghana, Adam had the rare opportunity to learn from his ailing grandmother some valuable lessons of life, including patience and perseverance that will eventually help him through his own difficult times as a young student in America. Adam never became a doctor because he lacked the "stomach," but he did have his electrical engineering degree. Courage of Defiance is one step towards helping cancer patients everywhere including Africa.
RoseDog Books is pleased to announce the publication of Courage of Defiance ($13.00) ISBN: 978-1-4349-9885-9, paperback. For more information, please contact RoseDog Books, at 701 Smithfield Street, Pittsburgh, PA 15222. To place a book order or to learn important information about shipping prices, tax, and our return policy, please call (800) 834-1803.
###