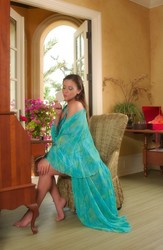 I know I wouldn't want to give out my measurements or tell anyone what I wear in bed if I thought it might end up in the papers. Not even our workshop knows who the garments are for.'
Kissimmee, FL (PRWEB) July 31, 2010
Certain Style design and create beautiful peignoir sets, nightgowns, pajamas and robes. Every item is available in every size because Certain Style garments are all hand made to measure. Customers also have a wide choice of colors and fabrics, allowing them to choose from luxurious silks or more practical terry, velvet or satin, whatever is most suitable to the occasion.
In order to celebrate their second birthday in the USA the company planned a special edition nightgown, 'but then one of our customers reminded me that the advantage of being an Internet only retailer is the dialogue we have with our customers', says CEO Lesley Charalambides, 'so we launched our survey to try and find out what sort of lingerie garment America really wants.'
So far, Certain Styles clients have voted overwhelmingly in favor of the Peignoir Set. 'Many of our clients buy for special occasions' says Lesley,' and peignoir sets have a romantic feel which is perfect for a honeymoon or anniversary.' Many of the company's customers are second time brides looking for something special which they may not find in conventional stores which tend to sell only a small set of sizes.
'Our aim', says CEO Lesley, 'is to make luxury available to everyone, irrespective of their size. We put a lot of effort into designing garments which will look good on real women, and when customers seek our advice we guide them to designs which can create curves where there are none or provide support where customers want it. As all the items are made to measure we can be sure the proportions are right for each and every customer and the effect is stunning. Garments which truly fit and are made in a color which suits you, make your look younger and slimmer, and who doesn't want that when they have something to celebrate?'
Certain Style began operations in the UK and swiftly became a leading luxury e-tailer; in 2008 the company expanded to the USA and has slowly been building an enthusiastic following with a reputation for great design coupled with typical European discretion and excellent customer service. A strict policy of confidentiality ensures complete privacy to every client. 'Yes, it would be nice to brag about famous customers', says Lesley, 'but our service is very personal. I know I wouldn't want to give out my measurements or tell anyone what I wear in bed if I thought it might end up in the papers. Not even our workshop knows who the garments are for.'
If you'd like to join the elite and have your say on which lingerie garment the company should produce for their special, two year anniversary, go to http://www.certainstyle.com and join the dialogue by signing up for their newsletter - in return you'll receive a 10% coupon on all purchases, be credited as one of the designers of the new garment on their website, and you'll receive a very special discount on the anniversary garment when it finally hits the virtual 'shelves'.
# # #