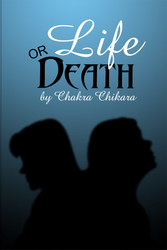 Pittsburgh, PA (Vocus) July 30, 2010
Two separate worlds, six friends, and a secret that would change their lives as they knew it. Yuri has always wondered what life truly means and what it has to offer. Everything seems to change when Mizu Kawa—a drifter—comes to her high school. Secrets are unwrapped, stories unlocked, and a forbidden border to another world is broken. With the help of Yuri's new friends— Mizu, Ron, Chris, Cody, and Zach—they encounter devastating trials and a fear all too real for them to face: themselves. Will Yuri find the meaning for life? Or will she choose utter destruction?
About the Author
Chakra Chikara is seventeen years old and is in the process of writing more books, including the sequel to Life or Death entitled Heaven or Hell. She attends Eaglecrest High School and plans to go to a four-year college to study creative writing as a major and minor in the performing arts. She currently lives at home with her parents and two brothers. Writing books is her dream and ambition in life, besides being able to fly one day. Life or Death is her very first novel.
RoseDog Books is pleased to announce the publication of Life or Death ($13.00) ISBN: 978-1-4349-9943-6, paperback. For more information, please contact RoseDog Books, at 701 Smithfield Street, Pittsburgh, PA 15222. To place a book order or to learn important information about shipping prices, tax, and our return policy, please call (800) 834-1803.
###