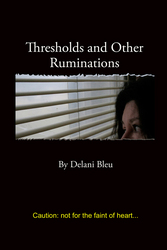 Pittsburgh, PA (Vocus) July 30, 2010
In Thresholds and Other Ruminations by Delani Bleu, a seasoned teacher takes on a journalism classroom and finds that the emperor is naked. After winning a "My Favorite Teacher" award, this educator admits she knows nothing about the very computer programs that are her bread and butter.
Depression and insecurities abound in this raucous romp through an average high school, complete with astute observations couched in random profanities and scatological references. Thresholds and Other Ruminations falls in the trendy blook (blog to book) genre and is set in this century in the Heartland of the U.S.A.
About the Author
Delani Bleu is an award-winning master teacher who has a passion for blogging and social networking. She struggles with bipolar depression and basic survival in the halls of public education as well as simply trying to survive middle age in the middle of global warming. Once disciplined for blogging Thresholds and Other Ruminations, she now offers it as a sacrifice to the angry first amendment goddesses.
Ms. Bleu lives with her husband and two sons in the Midwest and has earned a B.A. in journalism and an M.S. in effective teaching.
RoseDog Books is pleased to announce the publication of Thresholds and Other Ruminations ($12.00) ISBN: 978-1-4349-9844-6, paperback. For more information, please contact RoseDog Books, at 701 Smithfield Street, Pittsburgh, PA 15222. To place a book order or to learn important information about shipping prices, tax, and our return policy, please call (800) 834-1803.
###