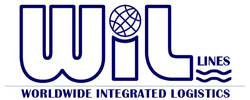 Expanding our network of agencies, doesn't only mean expanding internationally; it also means expanding our national network to provide American markets with the most cost-effective and inter-connected logistic solutions
Miami, FL (PRWEB) July 30, 2010
WIL Lines, a logistics consolidator based out of Miami, Florida has just announced the opening of their newest offices at the Port of Jacksonville. The facilities are expected to open for operation by mid-August.
The Jacksonville location, which is easily accessible to shippers from Georgia, Alabama, and Mississippi, is a hub for carriers and vessels in the Southeastern US. The Jacksonville facilities will accommodate all cargo sizes and heavy equipment of all types; including the export and import of heavy construction equipment.
Exporters of automobile parts will find the added benefit of lower fees for vehicle storage when compared those of the port. We pride ourselves in providing our customers with the best prices possible and that includes cutting their transportation costs by bring our facilities to them.
"Expanding our network of agencies, doesn't only mean expanding internationally; it also means expanding our national network to provide American markets with the most cost-effective and inter-connected logistic solutions," said Maurice Mrad, WIL Lines President.
WIL Lines currently has offices in five major US markets: Los Angeles, Houston, Miami, New York and New Jersey. As well as agencies in numerous hard to reach international markets such as Brazil, South Africa, Yemen, China, Libya and the Ivory Coast.
About WIL Lines
WIL Lines is a shipment consolidator or freight forwarder who are fully licensed by the Federal Maritime Commission as a NVOCC- Non Vessel Operator Common Carrier. It functions as a "carrier" by issuing its own Bills of Lading or Air Waybills and assuming responsibility for the shipments, thereby getting best rates and fastest, most secured routes for our customers.
For more information on WIL Lines, please visit: http://www.wilshipping.com
For daily updates follow us on Twitter: http://www.twitter.com/wil_shipping
WIL Lines Contact:
Worldwide Integrated Logistics
13290 NW 45th Ave,
Miami, Florida 33054
Office: (305) 594 9577
###