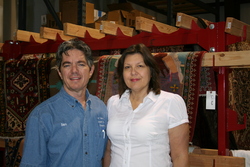 We are excited about the expansion of our hand-wash Oriental rug cleaning facility. Even in a time of recession, we were able to increase our sales to 39.5% in 2010 with new job opportunities in Ventura
Ventura, CA (PRWEB) July 30, 2010
Four Seasons Rug Spa, a division of Four Seasons Carpet and Upholstery Cleaning, an Oriental rug cleaning facility including the "full water immersion" traditional rug hand-washing method, announced today the expansion of its Ventura based-Oriental rug cleaning facility. The cleaning facility added 2,000 square foot to its current facility.
Sylvie Lariviere-Traub, President, proudly mentioned that "the new addition to the cleaning facility significantly increases our production capacity and improves the overall flow of our cleaning processes. The expansion was fueled by the continued growth we have witnessed this year. The new facility will enable us to successfully meet the rapidly growing demand for specialty rug cleaning and to better serve our customers in Ventura County."
" We are excited about the expansion of our hand-wash Oriental rug cleaning facility. Even in a time of recession, we were able to increase our sales by 39.5% in 2010 with new job opportunities in Ventura. This increase is largely due to the addition of the rug spa facility last November, which we think really has helped consumers in Ventura County to find a truly qualified company to clean their Oriental and other area rugs," said Dan Traub, Certified Oriental Rug Expert and founder of the company.
The new facility will include a consumer education corner where people can come, consult books before buying a rug and ask questions about their maintenance. Four Seasons Rug Spa specializes in Oriental rug cleaning, including: hand knotted Persian, Pakistani, Afghani, Chinese, Indian, Navajo, Antique, Silk and all machine made area rugs.
At the rug spa, each rug is treated individually with special attention, care and proper cleaning. Cleaning with the traditional hand-washing method enhances the value and appearance of a natural fiber rug and increases it's longevity. Also, this method is widely accepted in the textile and rug industry as being superior to the "steam cleaning" or extraction method. Four Seasons Rug Spa also provides rug repairs services.
For more information, please visit our websites at http://www.venturarugspa.com or http://www.4carpetclean.com.
Contact Information:
Sylvie Lariviere-Traub
805-642-4784 or 805-320-3744
About Four Seasons Rug Spa and Four Seasons Carpet & Upholstery Cleaning
Four Seasons Rug Spa and Four Seasons Carpet & Upholstery Cleaning is a locally-owned family business, founded in January 2003. Dan Traub, Oriental Rug Expert and Co-Founder, had previously worked in the cleaning industry in Seattle, WA, for over 15 years. Four Seasons is an IICRC certified firm (Institute of Inspection, Carpet and Restoration Certification). IICRC operates special training seminars in which carpet and rug cleaning professionals are taught officially approved methods of cleaning rugs and carpets. The IICRC symbol is the consumer's assurance that the firm they hire has pledged to provide highly qualified professionals to care for their carpet and furnishings and will deal with them with honesty and integrity. Four Seasons is also a member of Better Business Bureau.
###