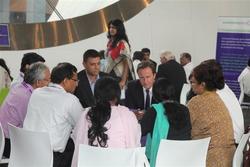 We have discovered just how much young leaders from both countries have to learn from each other
(PRWeb UK) July 29, 2010
The British Prime Minister David Cameron has announced the launch of a new, dynamic and self sustaining network of British and Indian young leaders. UK India Future Leaders will be delivered by Common Purpose.
The aim of the initiative is to expand, enrich and energise relations between India and the UK by investing in the next generation of leaders, and develop shared approaches to 21st Century political, economic and social challenges. Twenty exceptional young talents in each country from diverse fields including: civil society, government, the civil service, arts, media, politics and business will be identified to participate in the initiative following an open application process. The initiative will commence in autumn 2010.
The Prime Minister made the announcement about the initiative as part of his India visit with a 100-strong delegation of leaders in government, and the private and public sectors. Whilst in Bangalore, the Prime Minister participated in a Common Purpose course for emerging leaders at Infosys headquarters exploring issues around courage and leadership.
"We have discovered just how much young leaders from both countries have to learn from each other," says Julia Middleton, founder and Chief Executive Officer of Common Purpose. "The experience, energy and commitment of leaders in both the young and old democracies is deep and inspiring."
An independent Advisory Group comprised of leaders from the public, private and not-for-profit sectors from the UK and India will indentify a pressing and common issue to both countries. They will set the challenge for all 40 participants to work together and develop ideas and potential solutions.
The 40 participants will meet for four days in either India or the UK to consolidate ideas and determine a plan to combine their energies and address the issues. They will then form into smaller groups and use technology to continue to work together over the course of six months, at which point they will present their ideas to policy makers in both countries.
"I am delighted to launch this new initiative at Infosys," says N. R. Narayana Murthy, Chairman of Infosys. "I hope it will persuade many more companies to ask their young leaders to take responsibility for the world that surrounds them."
Sponsors of the Network to date are: Barclays, Kingfisher Airlines, PricewaterhouseCoopers, Tilda Riceland, United Business Media. The venue at Pune, kind courtesy Tata Management Training Centre.
Common Purpose is working in partnership with the British Foreign and Commonwealth Office to deliver this initiative.
Applications are encouraged from potential participants across all sectors who have demonstrated leadership; as individuals, at work or in society. To ensure a rich and diverse group, bursary places are available for those who would otherwise not be able to afford to participate.
Contacts
For further information on the application process for the UK India Future Leaders network, please contact Adirupa Sengupta on +44 (0)207 608 8150.
British Foreign Commonwealth Office's announcement of UK-India Future Leaders
Prime Minister's speech in which the initiative is announced
"To my mind globalisation should be about more than the trade of goods and services; it must be about the trading of experiences and stories between friends on opposite sides of the world and our countries can set the example. That's why today we are launching a new network to bring together the next generation of British and Indian leaders. There will be politicians – they always seem to turn up everywhere, yes – but there will be entrepreneurs, scientists, people in the media and dynamic young people from both our countries, brought together to find solutions to the challenges we face. I hope that by the time of the next UK-India summit they will be coming back to us buzzing with ideas and inspiration which both government and the private sector can act on," Prime Minister, David Cameron said.
Source: http://www.fco.gov.uk/en/news/latest-news/?view=PressR&id=22608859
Sponsors
Barclays
Established more than 300 years ago, Barclays has grown to offer a range of products and services tailored to meet the specific needs of its customers all over the world. Today, Barclays is a major global financial services provider engaged in retail banking, credit cards, corporate banking, investment banking, wealth management and investment management services with an extensive international presence in Europe, the Americas, Africa and Asia. Barclays operates in over 50 countries and employs more than 144,000 people. Barclays moves, lends, invests and protects money for more than 48 million customers and clients worldwide. As a responsible global citizen, Barclays is committed to ensuring the sustainability of the communities in which the business operates, and strives for sustainable relationships with customers and clients worldwide.
For further information visit: http://group.barclays.com/Home
Kingfisher Airlines
Kingfisher Airlines is India's only five star airline. India's favourite airline commenced operations with a brand new fleet of aircraft on May 9, 2005. Widely acclaimed as India's most premium private airline, it now offers over 380 flights daily connecting 71 key business and leisure destinations in India and abroad. Kingfisher Airlines is committed to the spirit of innovation and offers its guests the unparalleled flying experience. It has been conferred the 'Five - Star Airline Status', the most recognized and prestigious award that honours airline Product and Service Quality Excellence, by Skytrax, the world's leading, independent travel forum and air travel information organization
Kingfisher Airlines has been conferred numerous national and international awards in the last 5 years, the latest being the awards conferred at the world airline awards in Hamburg, wherein it bagged the best Airline award for India and central Asia, Staff excellence award and the Best economy seat in the world award.
For further information visit: http://www.flykingfisher.com/
PricewaterhouseCoopers
PricewaterhouseCoopers provides industry-focused assurance, tax and advisory services to build public trust and enhance value for our clients and their stakeholders. More than 163,000 people in 151 countries across our network share their thinking, experience and solutions to develop fresh perspectives and practical advice.
"PricewaterhouseCoopers" refers to PricewaterhouseCoopers LLP (a limited liability partnership in the United Kingdom) or, as the context requires, the PricewaterhouseCoopers global network or other member firms in the network, each of which is a separate and independent legal entity.
For further information visit: http://www.pwc.com/
Tilda
Tilda Pure Basmati is the UK's number one Basmati brand by volume and value. With over 30 years of experience in buying, importing and selling the highest quality Pure Basmati Rice, it's a name that you can trust. This year Tilda is celebrating its 40th anniversary.
Tilda supports over 10,000 farmers in India, each of whom it knows by name, by providing free Pure Basmati seeds, advice on farming techniques and ultimately ensures they receive a fair price for their crop at the market.
Tilda remains a family business, employing over 200 people in the UK, and is proud of its reputation for uncompromising quality and commitment to sustaining the legendary status of Basmati.
For further information visit: http://www.tilda.com
United Business Media
UBM is a leading global media business which provides events; data, marketing and information products; print products; and targeting, distribution and monitoring services to specialist business communities. UBM employs more than 5,800 staff in more than 30 countries worldwide.
For further information visit: http://www.ubm.com/
Tata
The venue at Pune, kind courtesy Tata Management Training Centre.
About Common Purpose
Common Purpose is an independent international leadership development organisation. First established in the United Kingdom in 1989, Common Purpose has started up successfully in India, in Bangalore, and now in Mumbai. The organisation has a fresh approach to leadership development and its independence, purpose and vision has captured the imagination of many young people in India and the United Kingdom.
Common Purpose leadership development courses are sometimes described as 'streetwise MBAs'.
Common Purpose's belief is that society benefits from people of all ages, backgrounds and cultures working together to help guide and shape the future of their organisations and communities. Because of this belief, Common Purpose courses are not only for senior level executives but for young and emerging leaders, as these individuals will be vital in creating positive and responsible change going forward.
Common Purpose is exciting for emerging leaders as they can gain the skills, knowledge and insight that will enable them to make responsible decisions, cross traditional boundaries and deliver complex change in ways that previous generations of leaders have struggled to.
There is a dynamic to Common Purpose's courses that is quite unlike any other brand of leadership development. Over the past 21 years, Common Purpose's course have provided leaders with a learning experience that is deeply ingrained in their local area so that they gain a comprehensive understanding of how society functions – and where it is broken – in the places where they live and work.
Leaders that take a Common Purpose course broaden their thinking beyond one sector or a single community, but they also find they develop a sense of their roots in the places in which they operate. This gives them a sense of responsibility locally and an understanding of the impact of their decisions and actions.
Common Purpose courses draw together people from many different backgrounds and from the public, private and not-for-profit sectors so that participants practice and become better at working together across traditional boundaries and divides and as a result, are more engaged in society.
The organisation operates in 11 countries around the world, including: France, Germany, Ghana, Hungary, India, Ireland, South Africa, Sweden, the Netherlands, Turkey and the UK. Common Purpose was started in India in 2008 and since then, has successfully delivered highly effective leadership development courses for young and established leaders in Bangalore and will soon launch in Mumbai.
Common Purpose will launch in Hong Kong in August 2010.
There are 30,000 Common Purpose alumni around the world and each year, 3,000 people complete a Common Purpose course. To attract the widest range of potential participants from a diverse range of backgrounds, Common Purpose provides approximately 600 bursaries a year for those who could not otherwise afford to attend.
When Common Purpose first launched in India, 500 leaders from across all sectors of the country responded that the idea behind this type of leadership development was highly relevant because:

There are difficulties of building effective collaboration across various sectors
Leaders in India want better and more diverse global networks
There is a concern that talent in India is increasingly disengaged from local communities
There is a need for disengaged communities to engage in the country's future growth
For further information on Common Purpose, visit: http://www.commonpurpose.org
###