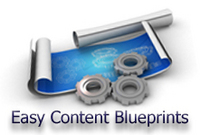 ECB is not in the get rich quick business. Our aim is make things easy and predictable by creating step by step blueprints and a wealth of valuable information to help small e-business owners create good content online
Kissimmee, FL (PRWEB) July 31, 2010
Today marks the official opening of a new site Easy Content Blueprints, a web site designed to help people write content on the web . But this is no bunch of elite bloggers, or SEO masterminds out to exploit Google's loopholes, ECB is designed to get down and dirty where the real business is by helping Internet business owners promote their websites in the one way that truly works, by building interesting, authoritative customer relevant content.
Brendan Will, the technical mastermind behind the site, is designing Easy Content Blueprints to be THE resource site for the many small business owners who place all their financial hopes on building an Internet business but find themselves at a loss when it comes to promotion. 'So many people seem to believe that 'if you build it they will come' says Brendan, but it doesn't work that way on the Internet. No matter how good your website is, if you don't promote it no-one will find it and you won't make any money. SEO experts try to trick Google into giving websites high placements in their searches, at ECB we know that little by little Google is plugging those gaps; the best way to succeed online these days is by creating good, interesting, relevant content.'
Plans for the site include a membership community which will provide powerful and practical resources for those who want to develop content of every type, including articles, blogs, twitter posts, squidoo lenses and more. Lesley Rice, the sites editor says ' When it comes to writing many small business owners quite understandably don't know where to start. At ECB we aim to show them simple ways to get their knowledge out there in the form of informative, interesting articles and blog posts which will boost their search engine ranking and bring in more customers. ' And the plans don't stop there. Brendan and Lesley plan to provide tools, templates and topics of the day as well as regular webinars and challenges to help business owners build both content and information products.
The idea for ECB came from a forum run by millionaire scam buster Chris Malta. Brendan and Lesley have put their knowledge and talents to use on the forum in aid of many small business owners who join after falling victim to one or other Internet ripoff.
'A lot of forum members had spent all their savings on highly dubious Internet schemes' says Brendan. 'ECB is not in the get rich quick business, our aim is make things easy and predictable by creating step by step blueprints and a wealth of valuable information.'
'Article writing, blogging, Squidoo lenses and Hub pages are not rocket science' says Lesley, 'many small business owners are experts in their field, they just need a helping hand' .
To get in on the ground floor at Easy Content Blueprints, visit the website and sign up for free updates. http://www.easycontentblueprints.com
About ECB
Brendan Will is an entrepreneur and internationally recognized expert in Search Engine Optimisation and host of the 'Conversion Matters' mastermind group.
Lesley O. Rice is an experienced, published and prize winning author of books and articles who writes and teaches writing skills of all kinds.
# # #