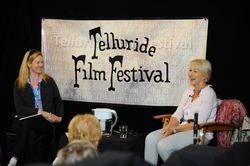 Describing the Telluride Film Festival, Roger Ebert once said its "…like Cannes died and went to heaven…"
Telluride, CO (PRWEB) July 31, 2010
Every fall, the small mountain town of Telluride dedicates itself to the flickering silver screen, avid motion picture critiquing, passionate popcorn-eating reviewers, and a lot more movie magic. It's the one time out of the year when people are actually encouraged to stay indoors. Adventure, love, suspense, horror, beauty… are just a hand full of genres one can experience this fall in Telluride as the local movie theaters gear up for an "unabashed carnival of film: viewing, breathing, eating, and talking cinema". As a sponsor of both festivals, Telluride Alpine Lodging encourages cinema lovers, who are passionate about the big screen industry, to attend one or both festivals and experience the love of film with people from all around the world.
Every Labor Day weekend, Telluride Film Festival prepares, "The SHOW", a weekend packed full of films programs shown in eight small, intimate venues. Instead of rolling out the red carpets, Telluride takes a more laid-back, mountain approach giving it its charm and uniqueness - Roger Ebert once said its "…like Cannes died and went to heaven…". In past years, this tiny town has been blessed with the world premieres of Juno, The Lives of Others, Brokeback Mountain, The Crying Game, Blue Velvet, and other masterpieces which have gone on to win numerous acclaims and accolades.
This year, the 37th Annual Film Festival is please to announce Guest Director, Michael Ondaatje. Best known for this Academy Award-winning film, The English Patient, his collections, novels, and publications have captivated crowds for more than 30 years. Ondaatje will be the board that chooses this year's films, which remain a mystery to attendees until the start of the festival.
Brand new to the festival season this fall is the Telluride Horror Show, a 3-day horror film festival dedicated to all genres of shocking featured and short films. Ted Wilson, producer of the October 15th-17th festival, is a long time local who has screened and previewed over 30 films to prepare for the 1st annual weekend – A hand full have already been selected, check them out here: http://www.telluridehorrorshow.com/films.html. Telluride is a renowned film and festival town so having the Horror Show premiere in October, just felt right. October is the perfect time of the year to get spooked – leaves begin to change, cool damp weather sets in, and the days grow shorter.
Unlike the Telluride Film Festival, the Telluride Horror Show has already begun announcing the films in their line up. They will include Broken Springs: Shine of the Undead Zombie Bastards, directed by Neeley Lawson; Someone's Knocking at the Door, directed by Chad Ferrin; Strigoi, directed by Faye Jackson; Attack, directed by Adam White; Cockpit: the Rule of Engagement, directed by Jesse Griffith; and Demiurge Emesis, directed by Aurelio Valtaire.
Telluride Alpine Lodging offers a varied range of vacation rental accommodations throughout Telluride and Mountain Village, Colorado. We feature a large selection of hotel rooms, one, two and three bedroom condominiums and premier homes – each offering a diverse range in location, décor and price. Festival attendees can take advantage of our current special: 15% off stays in hotel rooms, rooms with kitchenettes, or one bedroom condos. For large groups: two bedroom or larger condos are available at 25% off.
# # #