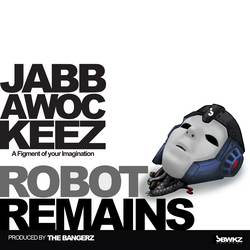 "Robot Remains" is a new and unique sound that emulates the original style of the Jabbawockeez.
Los Angeles, CA (PRWEB) July 29, 2010
In accordance with their widely praised "MÜS.I.C." show, the Jabbawockeez will be releasing their debut single "Robot Remains" through iTunes on August 19, 2010. The dance crew has always collaborated with exceedingly talented DJ and production team The Bangerz when it comes to the original music used for their performances. Their recent performance to the heavy hitting single, "Robot Remains," has quickly become a fan favorite after being featured on the "America's Best Dance Crew's Champions For Charity" episode. With fans constantly asking about the music, the Jabbawockeez knew they had to put out an album.
"Robot Remains" will be the first single off their full-length debut album to be released later this year. The single, which is mostly instrumental, is a progressive mixture of electro and hip-hop, and has a lot of hard-hitting beats. It is a new and unique sound that emulates the original style of the Jabbawockeez.
With the Jabbawockeez Presents "MÜS.I.C." selling out its first two runs in May and June, the hit show will be returning to the MGM Grand in Las Vegas for a third run August 19-25, 2010. Being the first dance crew to ever headline their own Vegas show, the world famous Jabbawockeez have put together a one-of-a-kind show that is described as an audio-visual story of inspiration brought to life through the harmonization of sound and movement. Since premiering in May, "MÜS.I.C." has not only seen sold-out success, but has been declared as a new kind of Vegas show that you can not miss by audiences and critics alike. The show is directed by Emmy-nominated choreographers Napoleon and Tabitha, and features original music from the Jabbawockeez produced by The Bangerz.
For more information please visit: http://www.jbwkz.com
Follow us on twitter: @the_wockeez
###