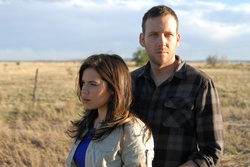 The Sausalito Film Festival is a unique Northern California cinematic experience featuring powerful films that are rebellious in nature, express passion for cultural understanding and stir the creative soul.
Mill Valley, CA (PRWEB) July 30, 2010
The Sausalito Film Festival returns the weekend of August 13-15 for a second year in its idyllic home at Cavallo Point, the LEED Gold Certified eco-resort on the San Francisco Bay at the foot of the Golden Gate Bridge.
The three-day experiential festival pairs screenings with relevant events from live music performances to stimulating panels that include filmmakers and thought provoking industry leaders in discussion about vital topics such as human rights, conservation, autism, health and wellness, climate change and the power of the human spirit. This year's program focuses on films with a rebellious spirit and provocative content, featuring a stellar line-up of thirteen Exclusive Bay Area Premieres.
"Sausalito and Cavallo Point provide the ideal backdrop for a premiere film festival experience given its picturesque beauty and creative, nonconformist and infamous past which continues to attract artists, writers, philosophers, rock legends and film stars," says Antonio Capretta, Founder, along with Allison Faust, Curator of the Festival.
This year's slate of films feature highly sought after Award-Winning documentary, Michael Nash's Climate Refugees followed by a panel of policy makers and community leaders. Two other favorites will premiere – Lucy Walkers' Waste Land and The Dry Land with America Ferrera - who will be in attendance along with director Ryan Piers Williams. Bay Area filmmakers, Andrew Thomas and Toby Gleason will screen their Award-Winning film The Anatomy of Vince Guaraldi certain to be a festival favorite for this beloved internationally renowned Bay Area musician. Alice Waters will introduce the astounding Italian Documentary on Slow Food - Terra Madre. Mick LaSalle's choice of Stéphan Brizé's Mademoiselle Chambon will also be featured, as well as Bhutto, the definitive documentary on the former Pakistani leader and the first woman in history to lead a Muslim nation.
Other festival highlights include the return of the crowd pleasing Special Secret Screening from an Acclaimed Director (which will not disappoint!) and the Filmmakers Sea Wolf Bay Cruise. Celebrities, Politicians, Community Leaders and a diverse and enthusiastic Bay Area Audience will mingle together to converse, share, discover and enjoy the festival's rebellious nature alongside the beauty of Cavallo Point.
Generous Presenting Sponsors include Blue Angel Vodka and Marin Clean Energy.
Signature Sponsors include Lexus of Marin, Stella Artois, Dominican University, Mud Worldwide, Marin Magazine, Main Street Research and Cavallo Point Lodge.
Film Presenters include Kanbar Charitable Trust, Citibank, Institute at the Golden Gate, The Arques Foundation, Marinscope and Whole Foods.
Festival Sponsors include xfinity, Ghilotti Brothers, Irony, 337, Loredona, Icelandic Glacial, KQED, Mighty Leaf Tea, KOIT, KDFC, Tony's Coffee, SPLASH San Francisco and Alter Eco Chocolates.
For more information, visit the festival site at http://www.sausalitofilmfestival.com.
ABOUT THE SAUSALITO FILM FESTIVAL
Sausalito Film Festival is a unique Northern California cinematic experience featuring powerful films that are rebellious in nature, express passion for cultural understanding and stir the creative soul. In a town founded on contradictions, characters and innovators, this year's Festival promises award-winning exclusive film showings and documentaries from around the globe. Screenings are coupled with thought-provoking conversations and after-film presentations that will stimulate and provoke…all set in a picturesque locale, Cavallo Point Lodge at the Golden Gate Bridge, every bit as inspiring as the films themselves.
ABOUT CAVALLO POINT – THE LODGE AT THE GOLDEN GATE
Cavallo Point Lodge is San Francisco's new national park lodge, set within Golden Gate National Parks at the foot of the Golden Gate Bridge in Marin County. Opened in the summer of 2008, Cavallo Point Lodge is an enchanting and environmentally sustainable "base camp" where the city's urban edge turns into untamed coastal wildlands. Since opening it has earned much recognition, including Travel + Leisure Magazine naming it one of America's top new national landmarks. The lodge's 68 historic rooms and suites, built between 1901 and 1915, once served as officers' quarters on this former military base, Fort Baker. The lodge also offers 74 newly constructed contemporary rooms and suites set on higher ground, and most offer spectacular views of the Golden Gate Bridge. For more information and special film festival reservations, call (888) 651-2003 or visit http://www.cavallopoint.com.
FILMS
The Dry Land – Bay Area Premiere
Directed by Ryan Piers Williams
In this moving story of redemption, a soldier returns from Iraq to face a new battle – reintegrating into his small-town life in Texas. With Melissa Leo, America Ferrera, and Wilmer Valderrama. The Dry Land is about this one man's fight within his own terrain – his country, home, and mind – and his journey to rebuild what he's lost.
Climate Refugees – Bay Area Premiere
Directed by Michael Nash
A documentary about the "human face of climate change." There is a new phenomenon in the global arena called "Climate Refugees," referring to populations displaced by climatically induced environmental disasters. Such disasters result from incremental and rapid ecological change, and are increasing in both frequency and severity, causing mass global migration and border conflicts. For the first time, the Pentagon now considers climate change and the resulting "climate wars" a national security risk. The U.N. states that more refugees are currently displaced by environmental disasters than by war, and experts have projected that number will double within the next five years to over 50 million – yet not one single international law gives asylum or aid to environmental refugees.
Waste Land – Bay Area Premiere
Directed by Lucy Walker
Filmed over nearly three years, Waste Land follows renowned artist Vik Muniz as he journeys from his home base in Brooklyn to his native Brazil and the world's largest garbage dump, Jardim Gramacho, on the outskirts of Rio de Janeiro. There he photographs an eclectic band of catadores – or self-designated pickers of recyclable materials. Muniz's collaboration with these inspiring characters as they recreate photographic images of themselves out of garbage reveals both dignity and despair as the catadores begin to re-imagine their lives. In the end, Waste Land offers stirring evidence of the transformative power of art and the alchemy of the human spirit.
Peaceable Kingdom – Bay Area Premiere
Directed by Jenny Stein
A riveting story of transformation and healing, Peaceable Kingdom: The Journey Home explores the awakening conscience of several people who grew up in traditional farming culture and who have now come to question the basic premises of their inherited way of life.
Presented through a woven tapestry of memories, music, and breathtaking accounts of life-altering moments, the film provides insight into the farmers' sometimes amazing connections with the animals under their care, while also making clear the complex web of social, psychological and economic forces that have led them to their present dilemma. This groundbreaking documentary shatters stereotypical notions of farmers, farm life, and perhaps most surprisingly, farm animals themselves.
The Anatomy of Vince Guaraldi – Bay Area Premiere
Directed by Andrew Thomas & Toby Gleason
The Anatomy of Vince Guaraldi is a musical journey through the brief life and times of the celebrated composer who pioneered the crossover of jazz and pop music -- from his celebrated scores for the Peanuts animations, to his mega-hit Cast Your Fate To The Wind, his nights in San Francisco's North Beach at the hungry i, and his ground breaking Jazz Mass at Grace Cathedral.
Including recently discovered and restored footage of Guaraldi's appearances and recording sessions (captured by noted jazz writer and Rolling Stone co-founder Ralph J. Gleason), the film features new performances and insights from Dave Brubeck, Dick Gregory, George Winston, Jon Hendricks, Paul Krassner, Paul Mazursky and many more.
The Tillman Story
Directed by Amir Bar-Lev
Pat Tillman gave up his professional football career to join the Army Rangers in 2002—and became an instant symbol of patriotic fervor and unflinching duty. But the truth about Pat Tillman is far more complex, and ultimately more heroic, than the caricature created by the media. And when the government tried to turn his death into war propaganda, they took on the wrong family. From her home in the Santa Cruz mountains, Pat's mother, Dannie Tillman, led the family's crusade to reveal the truth beneath the mythology of their son's life and death. Featuring candid and revelatory interviews with Pat's fellow soldiers as well as his family, Amir Bar-Lev's emotional and insightful film not only shines a light on the shady aftermath of Pat's death and calls to task the entire chain of command but also examines themes as timeless as the notion of heroism itself.
Bhutto – Bay Area Premiere
BHUTTO is the definitive documentary that chronicles the life of one of the most complex and fascinating characters of our time. Hers is an epic tale of Shakespearean dimension. It's the story of the first woman in history to lead a Muslim nation: Pakistan. Benazir Bhutto was born into a wealthy landowning family that became Pakistan's dominant political dynasty. Often referred to as the "Kennedys of Pakistan," the Bhuttos share a painful history of triumph and tragedy, played out on an international stage. Benazir Bhutto may have broken the Islamic glass ceiling, but she was wed in a traditional arranged marriage to then-Karachi playboy Asif Ali Zardari. Her two terms in power saw acts of courage and controversy as she eradicated polio and stood up for women, while fighting the male-dominated political elite. With her assassination she transcended politics, but left a legacy of simmering controversy and undeniable courage that will be debated for years.
Hello Lonesome – Bay Area Premiere
Lonely since his wife left him and alienated from his daughter, a cantankerous voice-over artist (played by the instantly aurally recognizable Harry Chase in his first on-screen role) strikes up an unlikely friendship with his regular deliveryman. Many suburbs away, an elderly widow loses her license to drive and turns to her wry younger neighbor for nostalgic cuddles and comfort. Meanwhile, a young urban sports fanatic meets a girl online and unexpectedly falls in love, though the trials the couple endure prove even more unexpected.
Adam Reid's enchanting, compassionate debut weaves together the worlds of six lonely individuals as they negotiate the age-old process of giving and receiving love. It isn't easy, and it never happens the way they expect it, but for these isolated souls, there's an oddball magic in the way they make connections they never imagined. Wonderfully acted and written, the intimate exchanges in this triptych of tales percolate with laughter and longing. As the film itself says, "A little hello can go a long way".
Terra Madre – Bay Area Premiere
Directed by Ermanno Olmi
Terra Madre (Mother Earth) is a bi-annual multi-language conference hosted in Torino (Turin) by the Slow Food Organization - a network of food communities, each committed to producing quality food in a responsible, sustainable way. They aim to foster discussion and innovation in the related fields of gastronomy and ecology and global economics.
This film starts out like a documentary of the 2008 Terra Madre conference in Torino, presenting stimulating views on the importance of bio-diversity, and working in harmony with nature. Ermanno Olmi builds masterfully on his theme, confronting the fate of the planet. The film then gloriously metamorphoses into a beautiful and poetically slow experience of food cultivation in harmony with nature. An unforgettable and thought provoking experience.
How I Am (Wie Ich Bin) – Bay Area Premiere
Directed by Ingrid Demetz & Caroline Leitner
"I'm like a hermit on an island," is the way Patrick Wanker describes his life with autism. With the dreams and fears of a teenager, but with wisdom and pain beyond his years, Patrick invites us into his emotional world through the words he painstakingly types into his computer. Set in a small, Italian mountain town, and using only Patrick's words, this beautifully filmed documentary reveals how painfully lonely life can be for a teen with severe disabilities. At school and at home, his inability to communicate and lack of social skills make
it nearly impossible for Patrick to build relationships, yet he remains optimistic for the future of his family, including his younger brother, who also has autism. The filmmakers do not attempt to offer a scientific explanation for autism, nor a catalog of its symptoms. Instead, they have given Patrick the opportunity to reach us through his own words, presenting his subjective description of what it means for a young person to live with autism.
What if Cannabis Cured Cancer – Bay Area Premiere
Directed by Len Richmond
Could the chemicals found in marijuana prevent and even heal several deadly cancers? Could the tumor regulating properties of cannabinoids someday replace the debilitating drugs, chemotherapy, and radiation that harms as often as it heals? Discover the truth about this ancient medicine as world-renowned scientists in the field of cannabinoid research explain and illustrate their truly mind-blowing discoveries.
Mick LaSalle's Choice Mademoiselle Chambon – Bay Area Premiere
Directed by Stéphane Brizé
A good man who doesn't fully know himself meets a woman who, without words, opens up his soul. But what do they do? She is an itinerant schoolteacher passing through town. He is a construction worker with a family and responsibilities. Do they let life go by or do they give up everything? Director Stephane Brize's study of love in mid-life features heartfelt performances by Vincent Lindon and Sandrine Kiberlain (who in real life are divorced and have a daughter). Kiberlain, nominated for a 2009 Cesar for her work here, conveys an entire history for this woman barely hinted at in the story.
ADDITIONAL INFORMATION
Sausalito Film Festival
Telephone: 415.887.9506
Website: http://www.sausalitofilmfestival.com
TICKETS
Available for purchase July 16 at http://www.sausalitofilmfestival.com.
Most Films Cost $10/Advance - $12/Door
# # #