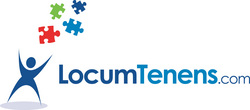 I am elated to receive this extraordinary award for just doing what I love most in my profession – using my surgical skills and knowledge to deliver appropriate and excellent care wherever I go
ALPHARETTA, GA (Vocus) July 30, 2010
LocumLife magazine has published its 2010 Locum Tenens of the Year Awards. LocumTenens.com nominated surgeon Dr. Andrew Rogers and Luise Balfanz, CRNA, to receive this honor.
"I am elated to receive this extraordinary award for just doing what I love most in my profession – using my surgical skills and knowledge to deliver appropriate and excellent care wherever I go," Dr. Rogers said. "It is such an honor to work with LocumTenens.com and their surgery team who exhibit an unsurpassed level of professionalism and efficiency. They respect their physicians and are a pleasure to work with."
The feeling is mutual for his recruiter, Livy McLoughlin. "He is a joy to work with, and I look forward to the entertaining e-mails I receive from him on a weekly basis," McLoughlin says. "He has become not just a colleague, but also a friend."
Dr. Rogers has worked 36 assignments over four years with LocumTenens.com. "He is a great representative of our company," says McLoughlin. "He educates the client about how they can benefit from locum tenens physicians. He's flexible and adaptable, exactly what you want in a locum tenens doctor."
Luise Balfanz has been with LocumTenens.com for seven years. She is extremely well-liked by LocumTenens.com clients, some of whom even wish they could hire her permanently. Her recruiter, Amelia Edwards, says Balfanz is "always delightful, very flexible, and professional."
Because she is so knowledgeable about the locum tenens business, she is extremely self-sufficient. "Once there was a problem with her schedule and the schedules of the LocumTenens.com CRNAs she was working with," Edwards says. "Ms. Balfanz took it upon herself to coordinate directly with the client and get it resolved without getting me involved."
LocumTenens.com wishes to congratulate these very worthy providers for being named Locum Tenens of the Year. Go to 2010 Locum Tenens of the Year Awards for the full article.
About LocumTenens.com
Founded in 1995, LocumTenens.com is a full-service physician recruitment firm specializing in anesthesiology jobs, emergency medicine jobs, psychiatry jobs, primary care jobs, radiology jobs, surgery jobs, and CRNA jobs with U.S. hospitals, medical groups and community health centers. LocumTenens.com operates an internet job board with direct access to thousands of jobs — in all specialties — posted directly by facilities and agencies nationwide. LocumTenens.com is part of the Jackson Healthcare family of companies. To learn more, visit http://www.locumtenens.com/welcome.
Media Contact:
Meigan Manis
Phone: 678.992.1276
Email: mmanis(at)locumtenens(dot)com
###