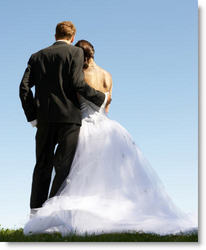 Louisville, CO (PRWEB) July 31, 2010
WebforWedding is proud to announce another new feature designed to reduce the stress of planning a wedding. The new feature allows for the creation of a wedding songs list. The new tool allows brides and grooms to see popular wedding songs for each part of their wedding ceremony and receptions. The site includes a complete list of:
· Bouquet Toss Songs
· First Dance Songs
· Mother Son Songs
· Father Daughter Songs
· Wedding Dinner Songs
· Cake Cutting Songs
· Last Dance Songs
· Wedding Party Songs
· Cocktail Hour Music
· Group Dance Music
By grouping the music by the event timing, it makes it easier to visualize how the music will be sequenced with the ceremony and receptions. Within each group, songs are sorted by user reviews with the most popular songs listed first. A human confirms all reviews so there are no explicit or inappropriate reviews. User can also create their own reviews as they go through the process. Almost every song includes a link to a video where brides, grooms and wedding planners can listen to the song. All non-instrumental songs include lyrics. What really makes WebforWedding one of the best places to select wedding songs is the ability to build a custom list without creating an account. Using cookies, the site allows users to build a list of wedding songs and save that information on their computer for up to 30 days. The user can add and remove songs until they have their perfect wedding play list and then they can print that list out to give to their D.J. or live entertainer. The site also includes links to other valuable resources where brides and grooms can download free music. The next addition in the wedding music portion of the website will be complete music lists built by professional wedding entertainers and DJ. These turnkey wedding song lists will allow some engaged-couples to see what the professionals recommend for a smooth flow throughout the ceremony and reception.
Originally, WebforWedding was designed to help couples select a wedding venue. This niche was slowly expanded into wedding photographers, caterers, officiates and wedding entertainers. Now the site has a full array of wedding professional inside and outside the US. The strength of the site is based on the fact that advertising on the site is free so any wedding professional can get a full-blown listing on the site for free. This allows the smaller businesses to get equal representation as the larger corporate businesses.
Although WebforWedding is a small family-owned wedding planning website, it includes many features that the mega-sites don't. The site is slowly being expanded to offer a better user experience than the mega-wedding-sites. By attempting to keep a small family feel, the site is gaining favor with many couples that want to keep their wedding plans simple and stress free. Planning a wedding can be a very stressful experience so WebforWedding is trying to design a site where brides and groom can relax while they plan their wedding.
# # #