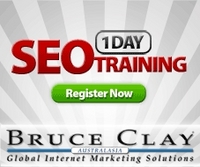 (PRWEB) July 31, 2010
The search engine optimisation training course is presented by Jeremy Bolt, a Director of Bruce Clay Australia, and is based on over 10 years of search engine research and successful SEO projects for clients. In addition to already proven material, the 1020 course includes new information and emerging SEO trends and strategies.
The SEO training course covers:

Achieving better rankings in search engine results
How to increase click-through rates
How to make your site more relevant
How to identify the best keywords for your site
What is PageRank and how to increase link popularity
How to identify and characterise your competition
How to analyse and edit your own content
How to avoid Spam
How to include Engagement Objects™
Designing and structuring your site in the right way to achieve better search engine rankings
Optimising the technical structure of your site to improve rankings
Ensuring your site is able to be spidered by the search engine robots
How to develop links worth having
Monitoring you and your competitors positions within the search engine rankings
Being ethical whilst optimising your site
How to measure your success
The fees for the SEO training are $795, excluding GST, and include meals, refreshments and a one year free subscription to the SEOToolSet® (valued at over $600) and a detailed course manual.
The next Bruce Clay SEO training course will take place at the Menzies Hotel in Sydney on September 15th.
For more information about Bruce Clay training courses please call 02 9252 1700 or visit our training page.
Testimonials from the 1 Day SEO Training course:
"Great course, easy to understand and well structured. I left the course more confident about my SEO knowledge and approach." (Web Developer)
"I thought I was relatively knowledgeable about SEO until I took this course. Bruce Clay set the benchmark!" (Director)
"I definitely recommend the Bruce Clay course to anyone wanting to get into the SEO space." (CEO)
Further Information:
Bruce Clay Australia is a leading provider of Internet Marketing Services, with an emphasis on Search Engine Optimisation (SEO). Bruce Clay Australia is part of Bruce Clay Inc. and provides SEO services, SEO training and SEO tools to the Australian and New Zealand markets. As developers of the SEOToolSet™, Search Engine Relationship Chart®, SEO Code of Ethics, and many search optimisation technologies, we are one of the most well known and reputable SEO firms in the world. There are currently offices in North America, Europe, Asia and Australia and we continue to expand rapidly.
# # #