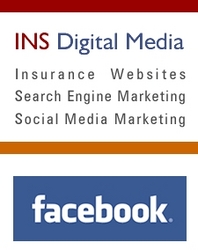 Did you know? Facebook directs more online users than Google!
Suwanee, GA (PRWEB) July 30, 2010
INS Digital Media, the leading provider of insurance agent websites and online marketing, now creates custom Facebook Business Fan Pages for insurance agents and brokers.
Facebook has more than 500 million active users and continues to grow across multiple demographics. In order to reach this vast and growing market, INS Digital Media has developed a professionally designed Facebook page for your business with custom graphics and social marketing tools.
Included in our Facebook Business Fan Page:
Facebook profile and account setup, a mini-website in your Facebook page with your agency information, insurance services, carriers, and a contact form; custom landing page for your Facebook page; custom graphics with your logo; custom "Invite Friends" function; links back to your insurance agency website; agency photos; and Facebook integration on your insurance website.
Facebook Business Page Benefits: Professional Fan Page for your agency that will get you noticed; improve your SEO - Fan Pages are indexed by the search engines; build your name/brand on the largest social network in the world; boost targeted relevant traffic to your insurance agency website; easily send your fans tips, updates, and news; build your email list; and capture insurance sales leads right from Facebook.
Facebook fan pages have become a necessary component to getting your message, agency information, or insurance service to more people, faster, cheaper and easier than ever before. You can contact us for more information on our custom Facebook Business Fan Page at http://www.insWebsites.com.
# # #