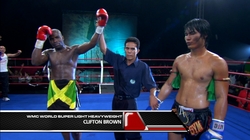 Burbank, Ca (PRWEB) July 30, 2010
Champions of Champions (COC) Elite scored an impressive debut Friday night July 23rd on G4. Viewers tuned in and found two exciting fights. COC Elite welcomed viewers by giving them a fight card that was non-stop action from start to finish. Along with the fights, viewers were also taken on a journey about what Muay Thai means in the 21st Century to the country of Thailand and its youth. The show drew in not just sports fans but viewers who had never seen Muay Thai but were engaged by the country and the fighter's back stories.
Stephan Fox, Vice President of World Muay Thai Council said "Shows like this are only good for our sport." He intends to use the show in his presentation at the 2010 SportAccord Combat Games in Beijing. He congratulated COC Elite for all the great work in promoting the show and to put the sport "in the right picture as to what sets us apart." said Fox.
Responses were unanimous in their support of the show. Forums from all mediums, including G4, contain comments lauding the fact that Muay Thai has found a presence on American Television. The American viewing public has spoken and they are delighted to have found a show that not only provides them with supreme fights but a wealth of cultural information about a country that has always held intriguing possibilities as well as a sport the American sports fan has been clamoring to know more about.
In all, COC Elite accomplished its goal to begin strong and deliver a solid punch to gain viewers from the start. COC Elite promises an aggressive marketing attack to build upon the excellent results from its premiere show.
Fight Recap
Quarteron vs. Slowinski: WMC
Round One:
The fight opened exactly as many thought it would with Quarteron coming out with knees and hands blazing looking to deliver to Slowinski the same quick fate as his other knockout victims. Quarteron drives Slowinski to the ropes with a flying knee. But Slowinski's experience comes to the fore and Quarteron finds himself on the mat twice.
10/8 round to Slowinski.
Round two:
Quarteron opens the round with a stiff left jab that has little effect on Slowinski. Slowinski counters with an overhand right and leg kick to Quarteron's thigh taking Quarteron down for the third time in the fight. Slowinski continues to press an obviously winded Quarteron and ends the fight with a sudden left hook.
Decision: Slowinski wins on a Technical KO at 1:57 of the 2nd round
Brown vs. Kaennorsing: WMC World Super Light Heavyweight Championship
Round One:
Brown comes out controlling the fight effectively mixing his hands and kicks while Kaennorsing tries to keep him at bay with front kicks and counter punching. Brown tries closing the distance on Kaennorsing with flying knees and lands an effective one bringing a smile to Kaennorsing face. Neither fighter does heavy damage but the round clearly goes to Brown the aggressor.
Round to Brown
Round two:
Kaennorsing comes out intent on turning the action to his favor driving Brown to the ropes with consecutive elbows. Brown attempts a wild overhand right that misses sending him into the ropes and Kaennorsing pounces on the opportunity. Kaennorsing catches Brown with a round elbow staggering Brown and sending him back into the ropes. The referee gives Brown a standing 8 count and Kaennorsing continues to assault Brown with elbows seeking to capitalize on the one chink in the amour that has plagued Brown over his career.
10/8 round to Kaennorsing.
Round Three:
Brown comes out strong walking Kaennorsing down with an effective mix of kicks and punches. Kaennorsing stays with his elbow attacks which brown manages to block effectively while delivering effective punches and knees to Kaennorsing mid section. Brown seems well recovered and ends the round with a straight right and a thigh kick to Kaennorsing.
Round to Brown.
Round Four:
Brown continues to walk Kaennorsing down landing effective knees and kicks. Kaennorsing seems to content to draw Brown in with clinches to counter Browns length. Brown continues throwing in his own elbows. Both fighters finish strong with Kaennorsing countering a Brown right with a spinning elbow to Browns head. Brown comes back to finish the round with a strong thigh kick and hard right.
Round to Brown.
Round Five:
Brown comes out landing several hard kicks to the body and opening up on his punches while Kaennorsing goes back to his familiar elbow attack. Both fighters appear weary and clinch with Brown landing hard knees to Kaennorsing body.
Kaennorsing appears to tire as Brown gets closer and begins to push the action to the ropes and comers where he lands solid elbows and knees. Both spent fighters tie each other up at the bell. Round to Brown.
Decision: Majority Decision to Brown
Next Broadcast: August 27th, 2010
Sean Wright vs. Marco Pique
John Wayne Parr vs. Buakaw Por. Pramuk
COC Elite Schedule Air Dates (Check your local Cable provider for G4 listing in your area. Times subject to change)
All times listed below are Eastern and Western Standard Times except on Dish and DirectTV which are Eastern Standard Time.
Friday August 27th: 8:00pm – 9:00pm
Friday September 24th: 8:00pm – 9:00pm
Friday October22nd: 8:00pm – 9:00pm
Friday November 19th: 8:00pm – 9:00pm
Friday December 17th: 8:00pm – 9:00pm
What: Champion of Champions Elite
When: 27 August, 2010, Friday (8:00pm – 9:00pm)
Website: http://www.coc-elite.com
A 2010 Risarc Productions Inc Production. All rights reserved.
# # #