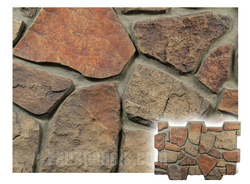 "Customers have been requesting fieldstone veneer panels for a while. These are the most realistic on the market."
Deer Park, NY (PRWEB) July 30, 2010
In response to customer recommendation, FauxPanels.com has added a fieldstone style to its collection of artificial stone panels. The new fieldstone (also called flagstone) panels consist of flat stones in varying sizes and shapes, arranged artistically to bring an effortless originality to your design.
"Customers have been requesting fieldstone for a while, but it is tough to create a realistic form for a random design, such as fieldstone," explained Steve Barron, President of FauxPanels. "It took time and experimenting to figure out how to do that well."
And now that they have, through the use of different stone molds, fieldstone faux paneling is now available through the FauxPanels.com website.
The Best in Texture and Realism in Stone Veneer
Four different molds are used to create the stone veneer panels, and these are rotated per order for a range of stone designs. This means that the panels you order are distinct—your eye won't gravitate to repeating rock patterns—and you can custom-make your stone design.
The fieldstone panels interlock both vertically and horizontally, to mimic real tongue and groove installation. They connect seamlessly, so it is virtually impossible to see where one panel ends and the next begins.
Plus, the fieldstone panels are 1.5 inches thick, allowing for the dimension and texture of real stone to shine through.
A Color of Paneling for Everyone, and Every Room
Available in 11 exciting varieties including smoke, desert sky and summer tan along with basic gray and limestone, there is sure to be a color to fit your home or business decor. Choose the right color for you, and add instant warmth to your home by using fieldstone panels to update your fireplace, kitchen backsplash, or outdoor patio.
Stone Veneer Installation Is a Snap
As always, these synthetic panels are made completely from lightweight yet durable polyurethane—making them a snap to install. What makes FauxPanels.com stand apart from its competitors is its ability to accurately reproduce the look and feel of natural stone in this lightweight and easy to manage medium.
"We certainly aren't the only company to make fake stone veneer ," says Barron. "But what most people don't realize is that other companies make their panels out of concrete, so you still need a mason to install them."
Not so for Barron's panels, which measure approximately 9 square feet and are easy to manipulate.
Included with each purchase are detailed instructions that allow you to install your panels yourself, without the added cost or inconvenience of a construction crew.
If you can work a jigsaw or circular saw and screw gun, you are set to install these field stone veneer panels on your own. You can show off your new stone design after only a few hours' work—making you the envy of your neighbors.
The Advantages of Faux Stone Panels
Faux panels offer an affordable, easy-to-install, maintenance-free alternative to actual wood, stone or brick paneling or siding. The paneling is incredibly realistic because each style is cast from a mold of the very stone, rock, brick or wood it is meant to replicate; thus keeping every detail intact.
Unlike other panels, these are not made from vinyl, with its accompanying environmental and health concerns. The polyurethane used to construct FauxPanels.com products are not affected by moisture, heat, cold or insects and can be easily cleaned.
About FauxPanels.com
FauxPanels leads the industry with the most realistic faux brick, stone and wood paneling, siding and column products on the market. It is a subsidiary of Barron Designs Inc., a family business dedicated to the home improvement industry since 1972. For more information, visit FauxPanels.com.
# # #