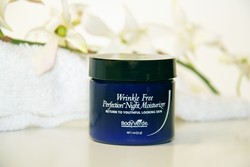 Costly procedures and highly engineered products promise youthful results, but nature often provides the most effective, and safest to use, anti-aging treatments. -- Sue Donnellan, founder of the natural skin care products company BodyVerde
Boise, ID (PRWEB) July 31, 2010
The best ways to prevent wrinkles and slow the appearance of aging are surprisingly simple. They include: using a daily moisturizer made from eco-friendly ingredients, limiting sun exposure, healthy eating, drinking plenty of water, exercising regularly and reducing stress.
Research shows that 70 percent of the aging process begins before age 18, long before many think to worry about the effects of tanning beds and sunbathing, consuming processed foods and other unhealthy habits. As a result, women in their 20s and 30s may start seeing fine lines near the eyes, as well as the start of laugh lines and forehead creases.
"Costly procedures and highly engineered products promise youthful results, but nature often provides the most effective, and safest to use, anti-aging skin care ingredients" said Sue Donnellan, founder of the natural skin care products company BodyVerde.
Donnellan's research into plant-derived age fighters led her to ingredients such as shea butter, which contains Vitamins A and E to help ease the effects of skin damage, and Vitamin F, a natural skin protectant; rose flower extract, which maintains skin hydration; and soy protein, a source of isoflavones, collagen boosters that can protect the skin against hormone-related aging. She used all three ingredients, plus a soothing infusion of lavender essential oil, in BodyVerde's Wrinkle Free Perfection Night Moisturizer.
She then went back to the lab, working with chemists to create a daytime anti-aging serum. The result is Wrinkle Free Perfection Serum, a liquid applied directly to wrinkles on the face (including the eye area) and neck that temporarily "erases" wrinkles when it dries. Again, familiar-sounding ingredients – including seaweed, cucumber, lavender and chamomile – restore a more youthful appearance without harsh chemicals or spa visits.
A third, recently launched product conceals another sign of aging: large pores. BodyVerde's Pore Tight helps reduce pore size and exfoliates surface-layer skin to reveal a fresher, more flawless face.
"Dermatologists and skin care experts have long recommended following a regular skin care routine as an essential part of maintaining skin's suppleness and luster," Donnellan said. "I believe that it doesn't have to involve applying unpronounceable ingredients on the skin."
In her free ebook The Secret to Beautiful Skin, available at BodyVerde.com, Donnellan also recommends quick, easy ways to give skin a healthy glow, such as drinking warm water with lemon in the morning and taking plant-based omega oil.
The 8-page ebook also helps educate consumers on the skin care products industry in general, including the fact that the U.S. Food & Drug Administration does not approve cosmetic ingredients, except for color additives, and leaves it up to companies to assure that products and ingredients are safe and properly labeled. Often "anti-aging" products are simply those that contain sunscreen.
All of BodyVerde's products are paraben-free and preservative-free. They contain no propylene glycol, mineral oil or color. Ingredients are naturally derived from botanicals and renewable resources. Each product is biodegradable and is not tested on animals.
BodyVerde's Wrinkle Free Perfection Night Moisturizer, Wrinkle Free Perfection Serum and Pore Tight sell for $19.99 each at http://www.bodyverde.com. For more information or product images, email Sue "at" BodyVerde.com.
About BodyVerde:
Nature's perfection is the inspiration for BodyVerde's effective and affordable skin care products. We apply our family values to our product development, using only safe and gentle botanical ingredients to promote self-healing from within. Go to BodyVerde.com to sign up for Body Buzz, our e-newsletter, and receive as a bonus a new e-report, The Secret to Beautiful Skin: 10 Reasons to Choose Natural Skin Care Products for You and Your Family.
Contact:
Becky Nelson, public relations
BodyVerde
(608) 513-9203
http://www.bodyverde.com
# # #