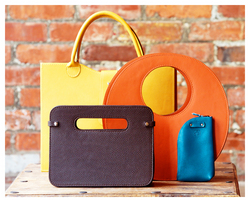 Our mission is to design and produce in keeping with the philosophy that form follows function, and that includes the need to practice sustainability and responsible manufacturing.
Louisville, KY (PRWEB) July 31, 2010
ARCHITYPE Gallery, with a line of handcrafted handbags designed to merge form and function, has announced their first participation at an industry trade event. Founding partners Charlotte Stengel and Dena Wilson will introduce their brand to the trade at Accessories the Show, August 1 – 3rd at the New York Javits Center in booth 1569.
"We are delighted to be launching ARCHITYPE at Accessories the Show New York," said designer Stengel. "As the only juried, all-accessories trade event in the U.S., it is the perfect place to introduce ARCHITYPE to the American market. We are also honored to be participating in their Juried Design Lab, which introduces new designers."
ARCHITYPE Gallery was founded in Louisville, Kentucky in April 2008 by Stengel and Wilson, who drew upon their educational and professional backgrounds in architecture and medicine to design distinctive bags and accessories in leather. Local leather artisans handcraft the designs from high quality American leather.
The initial inspiration came when Stengel, weary of the rigid tubes architects used to carry architectural drawings to meetings, designed a carryall in leather that she dubbed the "Quiver." It was so well received that the two friends saw that they could combine their passions for architecture, design, and craftsmanship to create a line of bags that could be both beautiful and functional.
Charlotte Stengel designed a core collection of 12 bags, inspired by high points in architecture (the Borsa da Moda bag was inspired by Brunelleschi's Duomo in Florence); scientific breakthroughs (the Mandala inspired by Leonardo's Vitruvian Man); and significant cultural necessities (the Biga, Duffel and the Messenger bags.) ARCHITYPE has also designed the Official Kentucky Derby Festival Bags for 2009 and 2010. Their handbags come in a variety of vibrantly colored leathers from Tuscan Orange to Fuchsia to Derby Green. Prices range from $175-$475 msrp.
"Our mission is to design and produce in keeping with the philosophy that form follows function," stated Stengel. Dena Wilson added, "To us that includes the need to practice sustainability and responsible manufacturing in order to build a business that benefits the environment and our community. Our leathers are from the U.S. and follow stringent domestic guidelines, assuring the safest and best quality. Much of it is recycled from end-lots of large projects and we also use local bison leather. We are also very proud to employ regional artisans with a century of combined years' experience to hand-stitch all of our bags and accessories."
Accessories the Show-New York
Jacob K. Javits Convention Center
August 1-3rd
Booth 1569
Architype
ARCHITYPE Gallery, in Louisville, KY, is a design house and retailer that specializes in designing and manufacturing leather bags and accessories. ARCHITYPE handbags are designed to merge form and function, and are inspired by architecture, science, history, and culture. Co-owners Charlotte Stengel and Dena Wilson are committed to upholding the principles of sustainability and responsible manufacturing, and building a business that supports the environment and local community. All of their designs are hand-stitched by area artisans. For more information please visit: http://www.architypegallery.com
# # #