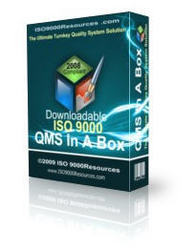 Louisville, CO (PRWEB) July 31, 2010
ISO9000Resources announces a major release of our ISO 9001 quality system products. In order to keep our products on the cutting edge, we have gone through a major revision of our products to take them further than the 2008 release of the International Standard Organization (ISO) 9001 standard. This revision change includes the entire family of products.
Our flagship solution includes every document most organizations need from the top level ISO 9001 quality manual down to the sample work instructions. This solution is unique because it is more than just compliant, it is effective and efficient. This is a full turnkey solution that includes information and templates to help create documents for:

The top level quality manual
Management review
Corrective actions including engineering changes
Calibration and maintain
Design control
Documentation control
Nonconforming materials
Inventory control
Process control
Purchasing
Continuous Improvement
Every year ISO 9000 Resources supports hundreds of small businesses helping them to create ISO compliant quality systems. At first, the site was a way to share previous ISO 9001 consulting experience. Many companies have such limited budgets that they can't afford to buy a turnkey quality management system. ISO9000Resources is appropriate for all types of business from small electrical contractors to large manufacturing organizations. That is why the site includes so much free information. We want to help overworked and understaffed quality managers and engineers in all types of organizations. This free help eventually evolved into a set of product for organizations seeking a faster and better implementation.
Our first implementation was in the 80s and it was way overboard. Our first quality system implementation was so complex that is started to strangle the organization's ability to adapt. After repeating the process so many times, we now have a bear-bones system that meets the requirement, is effective and is also efficient. Our current solution uses a good combination of fully automated systems and simple manual systems. Areas like ISO 9001 compliant management review are based on a simple logbook so maintenance for this part of the system requires only a few hours per month and not hour per week. On the other hand, higher volume processes like engineering change orders are highly automated in our system so that they are paper-free and everyone has access the most up-to-date information. The automated systems can manage large volumes of records (which are great for showing continuous improvement) and they allow for trending reports that can be part of the quality plan submitted to the management team. Our solution has been refined over and over to minimize the overhead created by compliance to the ISO standard. Every product on ISO 9000 Resources is backed by a 100% money back guarantee.
###