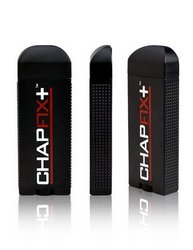 Every step of the of the way, Chapfix was designed with a guy in mind
New York, NY (PRWEB) July 21, 2010
Chapfix.com Stop using your girlfriend's lip balm! All men suffer from chapped lips, yet so few lip balm products have been designed to fit a man's needs. Chapfix was designed to fill this crucial void. Held in a sleek, patented component, there is no mistaking that Chapfix is a unique product. Chapfix has SPF 15 and is made with the highest quality natural ingredients like coconut oil, beeswax, mineral oil, aloe vera and Vitamin E.
Every step of the of the way, Chapfix was designed with a guy in mind. The component has an angled top to slide into pockets with ease, a slim profile so it doesn't bulge in your pocket, and grips on the sides for use in all conditions. "Chapfix was designed with many benefits for the average guy who uses lip balm," said designer Sean Patrick Smith. Chapfix's mint flavor also tastes great and keeps your mouth feeling fresh at any time of the day.
Chapfix combines a superior lip balm formula with creative packaging, resulting in a very exciting and innovative product for the men's personal care space. While the men's personal care and skincare industry is poised for great growth in the coming years, the lip balm category is often ignored by many of the larger players. Chapfix seeks to dominate and pioneer the men's lip balm category, and become the product of choice for all men who seek to heal their chapped lips. Since Chapfix has SPF 15, there is also a major opportunity to target the needs of the athletic community as lip sunburn can become a nuisance for many athletes who compete outdoors.
Chapfix has just launched its website and online store, and has been receiving a tremendous response from consumers and retailers alike. "We strongly believe that Chapfix will become the premier lip product for men. So many guys use lip balm, yet so few products exist that really address a guys' needs," said Alex Fogelson, who created the concept and is handling the products' marketing.
Chapfix is backed by Lotta Luv, the leading manufacturer and marketer of licensed lip products.
###