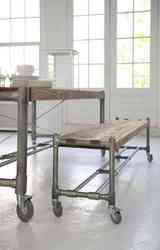 My customers respond to the d-Bodhi collections the same way I did when I first saw them … they love them! There's always something fresh and new that makes it easy to sell.
Singapore, and Mijdrecht, The Netherlands (PRWEB) July 15, 2010
Raymond Davids, CEO of award winning Singapore eco-furniture company d-Bodhi, announces new business partner and Director of Sales and Marketing, Gerard Hoogendijk.
"It was less than three short years ago that we made our first entry into the furniture market as the present company d-Bodhi," said Davids. "In that time we've grown to the point that we need to restructure our organization. By developing clear divisions within d-Bodhi we can better serve our customers."
Hoogendijk is now a full business partner and executive shareholder with Davids.
Previous to d-Bodhi, the two men worked together over a period of nine years each developing a different side of the furniture business.
Since 1995 Hoogendijk built up De Troubadour Interiors, his own 5,000 sq meter furniture shop in Holland, selling many different product lines. In 2005, he started his wholesale distribution company, dtp Import. This has grown into an exclusive d-Bodhi 700 sq meter showroom for the Benelux countries and Germany, all handled through his 6,000 sq meter d-Bodhi Distribution and Warehouse Centre.
Through his efforts, there are now 50 shops in Holland and 25 shops in Belgium, all selling the d-Bodhi brand. His years of experience developing and running both retail and wholesale sides of the furniture business add much value to the overall operations of d-Bodhi. This extensive knowledge will help strengthen d-Bodhi's position as a global furniture company.
Hoogendijk explains, "My customers respond to the d-Bodhi collections the same way I did when I first saw them … they love them! There's always something fresh and new that makes it easy to sell. At least that's been my experience."
"I'm excited to join with d-Bodhi in this new capacity. We are all here to support our dealers in any way possible to make their business a great success," he added.
Davids now heads up the Product Development Division, working to bring creative furniture and home furnishing lines to make consumer's lives a little more comfortable, without sacrificing the environment to do so.
Up to now, d-Bodhi is most well known for it's furniture using 100% reclaimed teak wood from old houses, railroad ties and bridges.
In March 2010 they introduced new collections at the IFFS, the International Furniture Fair Singapore, which added recycled galvanized metal and old boat wood to the design elements. d-Bodhi won a Best Exhibit Award as well as one for Best Dining Room at the Fair.
Looking to the future, this new partnership will create a stronger, more professional organization, one that will continue to bring exciting new developments to the eco-furniture industry.
For more information visit d-Bodhi or dtp.import.
About d-Bodhi
Founded in late 2007, d-Bodhi's philosophy is using, recycling and creating products from a range of materials with a sound commitment to the environment. As pioneers of the complete recycling concept, Old Wood, New Life, No Waste, d-Bodhi creates the majority of its furniture lines from 100% reclaimed teak wood. Small scrap-wood, all the way down to the sawdust, is turned into a range of intriguing products.
d-bodhi is known for its innovative uses of humble materials like old wood, kraft paper, and galvanized metal to create unusual combinations of textures in one piece of furniture. Urban, modern, a bit edgy.
Contact:
Mr. Sander Koedooder
+62 274 646-3445
# # #