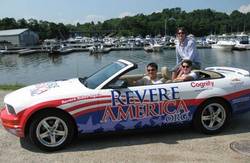 Their passion to help us repeal and replace the nationalization of health care is a direct reflection of the fact that ObamaCare imperils their generation in profound and untold ways." -Governor George Pataki
Mineola, New York (PRWEB) July 21, 2010
Governor George Pataki, Chairman of Revere America, announced today that the organization has kicked-off a summer grassroots tour designed to collect signatures on its petition to repeal and replace ObamaCare and to collect video interviews of people from all walks of life about their perspectives on the new national health care law and the direction of the country.
The Revere Rides Again tour, featuring "The Young Reveres" -- three brothers from Orlando, Florida -- has already hit the road in a Revere America wrapped Ford Mustang Convertible. As "The Young Reveres" travel across the East Coast and Midwest, their video interviews, blog postings and photos will be available online at RevereAmerica.Org.
"The Young Reveres" are the Wideman brothers from the Orlando, Florida area -- Matt (22), who is expected to graduate from the University of Florida in December with degrees in both Business Administration and Hospitality Management; Chris (20), a junior at Fordham University in New York where he is studying for a double major in Anthropology and International Political Economy; Nick (19) who recently graduated from The Crenshaw School as a salutatorian.
Together, the brothers accompanied by a friend and an older stepbrother, are expected to cover over 4,000 miles stopping at a wide variety of venues as they help enlist the public's energy in the critical effort to repeal and replace ObamaCare.
The Revere Rides Again tour is expected to visit New Hampshire, Maine, Massachusetts, New York, Pennsylvania, Ohio, Indiana, Washington, D.C., Virginia, South Carolina, Georgia and Florida over the next four weeks. Last week, the brothers visited Sansdown, New Hampshire, Portland, Maine and Revere Beach, Massachusetts. This week, the Revere Rides Again begins in Boston and continues to New York. Additional tour stops will be announced as the tour progresses.
Pataki said:
"I'm delighted to have the incredible energy and enthusiasm of the Wideman family actively working with Revere America. Their passion to help us repeal and replace the nationalization of health care is a direct reflection of the fact that ObamaCare imperils their generation in profound and untold ways."
Matt Wideman added:
"As someone who will soon be out of college and in the workforce, I'm frightened about what is happening to our country. It's plain to many people my age that because of ObamaCare and Washington's disconnect from the rest of the country, the hopes and dreams that our parents have for us are in big trouble. Through the Revere Rides Again Tour my brothers and I are hopeful that we can help make a difference, and that our friends and peers are also inspired to get involved and do the same."
About Revere America
Chaired by Governor George Pataki, Revere America is a 501 (c)(4) organization dedicated to advancing common sense public policies rooted in our traditions of freedom and free markets that will once again make America secure and prosperous for generations to come.
Revere America's national petition drive to collect signatures of like-minded Americans who want to repeal and replace ObamaCare was launched in Boston on April 18th – the 235th Anniversary of Paul Revere's Ride and has since traveled coast to coast holding public events and rallies. 150,000 Americans have already signed the Revere America petition.
More information about Revere America, the national petition drive, and the "Revere Rides Again" Tour is available at http://www.revereamerica.org.
###