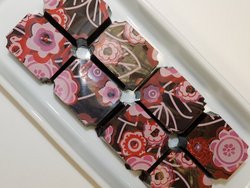 "Dark Chocolate the better good" - Jennifer I P, Chief Chocolate Officer, Victoria Chocolatier LLC
Folsom, CA (PRWEB) August 21, 2010
Victoria Chocolatier LLC, Sacramento region's leading artisan chocolatier, proudly announces a new weekend taste celebration for lovers of everything chocolate. The "Divine Chocolate Buffet" will be held beginning Saturday, August 28th, 2010 between 5.00 p.m. until 9.00 p.m. The buffet features an abundant spread of rich handmade chocolate creations for a low cost of $20 per adult, and the pleasure is now guilt-free as $1 per customer will go to a charity of their choice.
Featuring 25 decadent chocolate creations from 72% dark Belgian artisan chocolate in unique flavors. The buffet includes ganache pies, barks, fudges, a chocolate fountain, chocolate nougats, biscuits, heavenly hot chocolate drinks infused with exotic spices and teas.
"I have created 18 unique flavors for dark chocolate lovers to experience. From healthy dark chocolate fudges infused with green tea and real fruit purees to incredibly smooth ganache pies in kiwi, pomegranate, mango, and strawberry to name a few," said Chief Chocolate Officer, Jennifer I P, Victoria chocolatier LLC. "Many chocolate lovers from near and far have heard of my quest to educate people to choose dark chocolate over milk and white for its health benefits. As most of us know, dark chocolate contains flavanoid, which is good for the heart. All the chocolates are handmade fresh daily and are of course preservative free."
Victoria Chocolatier also offers delicious French and European pastries from napoleons, petit fours, aristocrats, french macarons & tiramisu, all in a relaxed and family-friendly setting.
All chocolate lovers should add Victoria Chocolatier to their gourmand calendar. Check out http://www.facebook.com/pages/Victoria-Chocolatier/325972057297 for further information or contact 888.8018.999 or email info(at)victoriachocolates(dot)com for reservations.
Victoria Chocolatier LLC is open Tuesday to Saturday from 12.00 p.m. until 9.00 p.m. and Sunday from 12.00 p.m. until 8.00 p.m. and is conveniently located in the heart on Historic Folsom, CA at 713 Sutter Street.
# # #