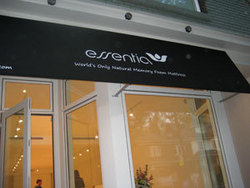 I spent 2 years developing a natural foam and when I offered to major brands most weren't interested due to its cost or they would only integrate an insignificant amount in order to promote the foam's 'natural' qualities
Montreal, Quebec (PRWEB) August 16, 2010
Essentia announces partnership opportunities in opening Essentia retail locations for their patented natural memory foam mattresses across the U.S.A. and Canada. There are very few attractive business opportunities in today's economy. Essentia retail stores are the exception. With their turnkey approach they plan on opening Essentia retail stores across the United States and Canada with owner/operator partners.
With the exceptional success of the current Montreal, Toronto and Vancouver stores, Essentia is looking for potential owner/operators who want to become partners in one of Canada's most exciting growth stories. As seen on CBC's The Dragons Den, Essentia's natural, toxin-free and 100% biodegradable mattresses and pillows are the first of their kind on the market. Its patented formulation of natural hevea milk from the rubber tree, water, organic essential oils and plant extracts replace the petroleum found in conventional memory foam mattresses. The Beach area of Toronto was chosen for Essentia's first store because it embodies the healthy living, eco-friendliness and community values that are so important to Essentia. Their Toronto store is located at 2180 Queen Street East features a sparkling white floor, is stylishly minimalist and a great backdrop for these handcrafted, Canadian-produced natural memory foam mattresses.
The Evolution of Essentia is both Inspirational and Eye Opening. "When a family member was diagnosed with cancer, I did some research and found that a startling number of household items, including mattresses, emitted harmful toxins," said Jack Dell'Accio, president of Essentia. "Upon further investigation, I found that although toxin levels in mattresses met government standards, these levels weren't acceptable to me," he continued. Studies have shown that off-gassing from conventional foam mattresses can cause long-term health effects including cancer, damage to the heart, liver, central nervous system and kidneys1. "I spent 2 years developing a natural foam and when I offered to major brands most weren't interested due to its cost or they would only integrate an insignificant amount in order to promote the foam's 'natural' qualities," said Dell'Accio. That's when Essentia was born.
Conventional memory foam and synthetic latex mattresses are filled with chemicals best left in the lab. Off-gassing petrochemicals, toxic glues and chemical fire retardants are found in most mattresses on the market today and "eco-friendly" labeling is widely misused and unregulated. The fact is that mattresses are only required to contain minimal natural ingredients in order to be labeled "eco-friendly."
For more information on partnership opportunities visit: http://www.myessentia.com/partnership
Essentia is at the forefront of the healthy sleep movement, continually striving to improve its environmental standards through the in-house development of environmentally friendly technology. All Essentia products are handmade made in Canada by local craftsmen. Its 100% biodegradable memory foam is derived from renewable resources, good news for both the environment and consumer health. Essentia has been approved by Green America as a socially and environmentally responsible business and also donates 1% of its annual sales to environmental groups as a proud member of 1% for The Planet. To learn more about the benefits of Essentia's natural memory foam mattresses and pillows, visit http://www.myessentia.com
1. http://www.epa.gov/iaq/voc.html United States Environmental Protection Agency. An Introduction to Indoor Air Quality, Organic Gases (Volatile Organic Compounds - VOCs)
For Further Information Contact:
Jason Wright
450-688-8111 or jw(at)myessentia(dot)com
Photographs are available upon request
# # #