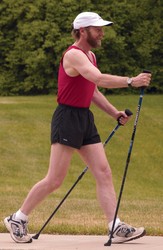 Celebrating Nordic Walking Past, Present and Future
Madison, WI (Vocus) August 17, 2010
U.S. pole walking pioneer and CEO/Founder of Exerstrider Products inc. Tom Rutlin has accepted an invitation from the board of the International Nordic Walking Federation (INWA) to deliver a keynote address at the organization's 10th Anniversary Celebration and Conference in Riga, Latvia on September 26th, 2010. INWA has member organizations in more than 20 countries around the globe.
Despite having gone somehow little noticed in his own back yard, Rutlin is widely considered to be the "father" of the rapidly growing Nordic walking movement. He has tirelessly promoted the health and fitness benefits of fitness walking with poles throughout the U.S. since introducing the first line of poles specially designed fitness walking poles, and easy-to-learn techniques which turn walking into a whole body exercise similar in benefits to Nordic (cross-country) skiing in 1988.
Called "Nordic walking" because the activity combines the simplicity and accessibility of fitness walking with specially designed poles, used much as they would be in Nordic skiing, to involve the muscles of the core and upper body, the activity first exploded in popularity across Scandinavia and Northern Europe in the decade following its introduction in Nordic skiing loving Finlanders in 1997.
There are currently an estimated 10 million plus Nordic walkers involved in the movement which is now growing in popularity throughout all of Europe and the UK, North America, Australia and Asia. The theme of INWA's 10th Anniversary Celebration Conference is "Celebrating Nordic Walking Past, Present and Future" and Rutlin's invitation as one of the movement's pioneers symbolizes the organization's growing commitment to recognizing individuals and other organizations which have made significant contributions to the evolution and advancement of the activity.
One week prior to INWA convention in Riga, Rutlin has been invited to participate in another major Nordic walking event in Milton Keynes, U.K. at the invitation of the nation's leading Nordic walking organization. He will take part in a panel discussion as part of Nordic Walking UK's Instructor Conference along with two other Nordic walking pioneers, Marko Kantaneva (who pioneered the Nordic walking movement in Finland and played a leading role launching INWA in 2000) and Michael "Walking Wizard" Gates, holder of both 24 and 36 hour Nordic walking endurance records and the leading figure in the Nordic walking movement in Australia. Nordic Walking UK has trained more than 1,400 Nordic walking instructors who are recognized by the UK's Register of Exercise Professionals, and their event will also focus on the future of what is becoming one of the hottest new trends in fitness globally.
At age 63, Rutlin who has been regularly Nordic walking for more than 25 years serves as a living example of the fitness benefits of transforming ordinary walking into a whole body "Nordic walking".
###