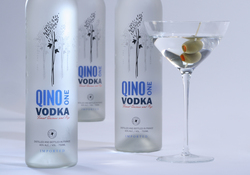 Dan and his wife Christine helped name, develop and create the brand back in 2006 and became the sole owners early in 2010.
Lakeville, MA (PRWEB) August 30, 2010
Created in 2006, Qino One Vodka is made in part with quinoa, an ancient Bolivian grown cereal grain praised by the Incas as "the Mother of all Grains" and "Soul Food of the Andes." The United Nations considers quinoa a super food and it is often referred to as "the grain of the future."
Launched in selective US markets in 2007, Qino One Vodka immediately received high praise for quality and taste from industry arbiters. "In addition to receiving awards from The Chicago Beverage Testing Institute, The San Francisco World Spirits Competition, the Ultimate Spirits Challenge, and an outstanding product evaluation from spirit guru Paul Pacult, Qino One Vodka has the distinction of being one excellent tasting vodka that happens to be made using Fair Trade quinoa and European rye," says Heavenly Spirits owner Dan Cooney of Lakeville, MA.
Dan and his wife Christine helped name, develop and create the brand back in 2006 and became the sole owners early in 2010. The Cooneys, who work together promoting Heavenly Spirits are delighted to have the opportunity to continue marketing Qino One. "We have some exciting ideas for the brand's future," reports Christine. "While we can't yet reveal all our plans, we do expect Qino One Vodka will soon be even more available to a growing number of adult vodka drinkers in the US." "The goal," says Christine "has always been to make the best quality vodka possible using the right amount of quinoa, a unique and healthy ingredient that is organic and Fair Trade certified by Ecocert."
During the research and development stage of the project the couple learned about the difficult economic conditions that exist in Bolivia and made a commitment to help the farmers and the surrounding community. They decided that in addition to using Fair Trade Bolivian quinoa to make the vodka, they would support the efforts of Kiva, an award winning micro lending program that benefits developing countries including Bolivia. (See http://www.kiva.org.)
Qino One Raspberry Flavored Vodka was added to the line in 2008 and was strongly recommended by the Ultimate Spirits Tasting Panel in 2010. Naturally flavored from distilled raspberries with almost no sugar added, it smells like pure raspberries and sets itself apart from most other flavored vodkas on the market by its use of 100% natural ingredients.
Heavenly Spirits is a company that imports distinctive, award winning, distilled spirits from France, including; Armagnac, Cognac and Calvados. Super premium Qino One Vodka will likely be a natural fit into the Heavenly Spirits portfolio. Now the leading importer of Armagnac in the United States, Heavenly Spirits has distribution networks in twelve states, including: New York, Pennsylvania, Texas, California, Illinois, Rhode Island, New Hampshire, Missouri, Oklahoma, Tennessee, Massachusetts and Georgia.
The largest distribution of Qino One Vodka is currently in the Cooney's home state of Massachusetts, where the couple has worked hard to promote the brand via seminars and tasting events. La Voile, an acclaimed French restaurant on Newbury Street in Boston for example, pours Qino One as their house vodka. Massachusetts retailers who carry Qino One Vodka include; Martignetti's, Yankee Spirits, Douglas Wine and Spirits, Cotuit Liquors, Luke's Super Stores, and Pop's of Easton just to name a few.
"It's a win, win, win situation" explains Dan, "the farmers, the consumers and our business all benefit from the quality and unique goodness of Qino One Vodka."
For a complete portfolio listing see the Heavenly Spirit's web site: http://www.heavenlyspirits.info.
# # #