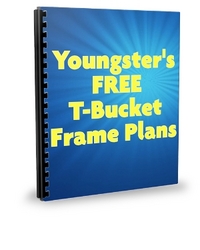 Mcallen, TX (PRWEB) August 2, 2010
Since the late 1950s, the T-Bucket has become perhaps the world's most enduring and popular hot rod. Based on Henry Ford's original Model T of the 1915 to 1927 era, T-Buckets are simple, lightweight hot rods that offer pulse-raising performance with just a plain everyday modern passenger car engine. Because of their simplicity and the fact that a T-Bucket can be built on a shoestring budget, it's the first hot rod for many. To get started, though, a solid chassis is required and many aspiring T-Bucket builders don't know where to start. Now, a set of tried and proven T-Bucket chassis plans is available free of charge from TBucketPlans.com.
The Free T-Bucket Plans were developed by Ron Young, a Minnesota hot rodder who's been building T-Buckets since the mid-602s. Along the way, he was the beneficiary of a lot of knowledge (much of it passed along as constructive criticism) by older hot rod builders who wanted to help someone with not quite as much experience as they had at that point. In the same vein, Ron put together a detailed set of T-Bucket frame plans based on the way he's been building them for the last 15 years or so (just as the late Boyd Coddington built "Boydster" hot rods, the T-Bucket frame style popularized by Ron Young is called a "Youngster"). They're free plans because Ron wants to share his knowledge just as his many hot rod mentors did. TBucketPlans.com is grateful to be able to help in their free distribution to aspiring T-Bucket builders.
These free T-Bucket hot rod chassis plans include:

23 pages covering the Youngster Free T-Bucket Frame Plans, which highlight the construction of a "roller" chassis.
many illustrations, some full size, for a transverse sprung front-end and a coil-over-shock suspended rear axle.
budgetary Bill of Materials, with part numbers and costs
And, best of all, these valuable plans are free to street rodders and hot rodders who visit the TBucketPlans.com website and enter their name and email address. In turn, they will receive an immediate email response with your download link to the plans in PDF format.
About TBucketPlans.com
TBucketPlans.com is the publisher of the eBook version of what has been called "the most complete hot rod book ever written" the legendary "How to Build a T-Bucket Roadster for Under $3000" by Chester Greenhalgh.
# # #