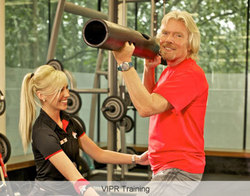 At the age of 60, health club founder Sir Richard will become the oldest person to kite-surf across the channel.
(PRWeb UK) August 3, 2010
Virgin Active health clubs have announced that Sir Richard Branson, who celebrated his 60th birthday on July 18th, is set to do his network of gym members proud by kitesurfing the English channel. Health club founder Richard, in the company of his nephews, children and a few mad friends, will become the oldest person to kite-surf across the channel.
The cool, fun, colourful and frankly crazy journey from Dungeness to the French coast will take place during the month of August. And as you might expect from a man who masterminded a fitness centre chain, Richard is more than up for the challenge:
"Kitesurfing is one of my favourite sports. I absolutely love the amazing rush you get when going at high speeds, in high winds, with the most beautiful kite acting as your only guide. I know that kitesurfing across the channel will not be quite the same as kitesurfing in the beautiful waters of the Caribbean but I can't think of anything I'd rather do, with my family and friends, to celebrate turning 60!"
The crossing, estimated to take up to six hours dependent on conditions, stretches 24.4 miles of one of the busiest shipping lanes in the world.
Challenge sponsor Virgin Active UK, part of the global health club chain founded by Sir Richard 10 years ago, has been advising Sir Richard and the team on their physical preparations for the crossing. Key requirements are well developed core strength and the ability to react to sudden changes in the environment caused by wind and waves.
Virgin Active's gym and health club experts have compiled a training package for Sir Richard and the team ahead of the crossing, which combines some of their health clubs' latest and most innovative equipment including:

ViPR, a seemingly simple weighted moulded rubber tube that can be carried, dragged, thrown, rolled, stepped on and flipped to give the body a full gym workout, training its ability to react quickly whilst honing strength, CV fitness and flexibility
TRX Suspension training, which uses adjustable straps to allow health club members to use their own body weight to work different muscle groups, closely mimicking the types of strain that the kite will place on the team
RipcoreFX, soon to launch at Virgin Active health clubs, using a pole connected to a resistance band in many different positions to create strength and reactive ability in asymmetrical positions
NB. All equipment available at Virgin Active health clubs. Pictures of Sir Richard training with items mentioned available on request
Nick Hudson, national fitness manager of the health club chain, comments: "Kitesurfing is a hugely challenging sport physically, that places very different strains and stresses on the body, compared to traditional gym based exercise, so we have had Sir Richard and the team using some of our health club's less traditional training tools and equipment."
All of the team's equipment and livery has been designed and kindly donated by Flexifoil International, the UK based leading kitesurf and power kiting brand, with unparalleled experience over almost 40 years in premium quality land and water kite design and manufacturing. Richard will be undertaking the challenge on Flexifoil's brand new Ion kite, the latest generation in a well established line of high performance kitesurf kites.
Tim Davis, UK head of brand and marketing at Virgin Active health clubs commented: "We're delighted to be supporting Richard and the team for this challenge. It's an ideal event for our fitness centre brand to be involved with and demonstrates our approach to challenging how the health club sector markets itself." For more on Virgin Active health clubs and Sir Richard Branson's kitesurfing exploits, just visit http://www.virginactive.co.uk/
###