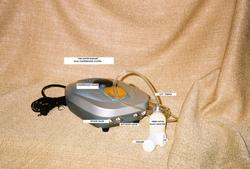 "...WHERE NO VAPOR HAS GONE BEFORE..."
(PRWEB) August 4, 2010
Researchers at "The Vapor Inhaler" have come up with the "cutting edge" of medical marijuana treatment. Introducing, "The Vapor Inhaler," the world's only patent right herbal vapor compression system, which allows the patient to compress herbal vapor into portable glass canisters, up to ½ oz, and dispense with the inhaler dispenser unit, just like asthmatic sufferers use. This gives patients the capacity to have complete mobility with no herb, pipe, vaporizer or lighter. Patients can just take their inhaler and go. Using the iNhaler is simple, convenient, sanitary and saves vapor. Please check out "THE VAPOR iNHALER'S" website at: http://www.thevaporinhaler.com for more complete information.
The Vapor Inhaler allows the patient to control their Medical Marijuana treatments. This is the solution for medical marijuana portability and dosage, where and when you need it.
Many dispenceries, caregivers, collectives and growers are looking forward to "THE VAPOR iNHALER"s next generation commercialized herbal compression systems, specifically designed for the cannister resale markets. The compressed vapor stays "fresh" in the air tight glass cannisters for up to 3 months. This can save Growers and Collectives up to 28% in lost revenue, due to "stale" herb sitting in inventory. This same savings can be gained by the Dispenceries and Caregivers, who may buy more inventory when the price is down and have the capacity to store it for resale to the end user at a later date. "THE VAPOR iNHALER" marketing team is currently working on commercial system applications, so that the growers and providers will be able to private label their pre-compressed herbal products, enabling them to capture a much larger market share, while providing their clients with convenient cannister purchases, instead of the traditional herb with the accompanying paraphernalia.
Coming Soon: Generation II, III and IV!!!
.
THE VAPOR iNHALER'S explosive growth mirrors the medical marijuana industries growth within the last several months. In fact, THE VAPOR iNHALER has now added a third shift, working overtime to keep up with the enormous demand for the systems.
See who is following "THE VAPOR iNHALER" on Twitter and Facebook.
"The VAPOR iNHALER"
http://www.thevaporinhaler.com
877-241-3182
vaporinhaler(at)msn(dot)com
invest(at)thevaporinhaler(dot)com
###