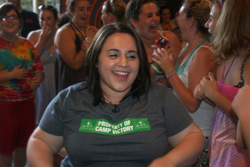 "The show 'Huge', just like the program here at Camp Shane, isn't just about losing weight, it's about finding out who you are as a person."-Nikki Blonsky, star of ABC Family's hit show "Huge".
Ferndale, NY (PRWEB) August 3, 2010
Nikki Blonsky, the star of ABC Family's breakout hit "Huge" which chronicles the experiences of a group of overweight teenagers at the fictional Camp Victory, made a surprise visit to its real-world counterpart -- Camp Shane, the longest-running weight loss camp for kids in the country.
Blonsky was there to announce a scholarship -- The Camp Shane Nikki Blonsky Scholarship -- which will be awarded to one lucky teen to cover a nine-week session at Camp Shane in the summer of 2011. The scholarship is valued at $8300.
Blonsky will pick the winner herself from essays in which teens will write why they want to attend Camp Shane and why losing weight and getting healthy is important to them. The essays may be submitted via email or regular mail. Contest rules and further information are available at the Camp Shane website (http://www.campshane.com) or Nikki Blonsky's website (http://www.officialnikkiblonsky.com).
During her appearance at Camp Shane, Blonsky got personal with the audience talking about how she overcame a negative self-image to become the happy young woman she is today.
"I do march to the beat of a different drummer, but I am now comfortable in my own skin." She urged the teen audience to make use of their stay at Camp Shane to learn about healthy eating, nutrition, exercise, and most-importantly, self acceptance--urging them to not judge their insides by other people's outsides. "I am proud of myself for being me, an individual," Blonsky said. "You should be proud of yourselves too."
Asked by a camper how Blonsky felt having to pose for publicity photos in a bathing suit, Blonsky smiled and said, "I feel awesome and there is no better way to show off my confidence, is there? I love my body."
The teens, who love the actress too, screamed with delight as clips of her as "Will" (the blue-haired rebel on "Huge") played on screens just before she hit the main stage of Camp Shane.
Blonsky thanked the campers for their exuberant welcome and told them that she is glad "Huge" is such a hit, resonating with teens everywhere. "We deal with body issues and eating disorders and popularity and sexual orientation and all the things that teenagers are dealing with everyday," she says. "The show, just like the program here at Camp Shane, isn't just about losing weight, it's about finding out who you are as a person."
The founders and owners of Camp Shane, David Ettenberg and Ziporah Janowski, were thrilled with Blonsky's visit and very excited about the scholarship. "Nikki is a great role model for our kids," said Ettenberg. "She's a successful, confident, and energetic young woman who learned to believe in herself and let nothing stand in her way. Now another teen will have a chance to join us here at Camp Shane next summer and learn how to empower themselves to lose weight, get healthy, and start on their own road toward a happy future and a long life. We thank Nikki Blonsky for making that possible."
Information about Camp Shane, the longest-running weight loss camp for children and teens, can be found at http://www.campshane.com or by calling 845-292-4644 through August 2010 and 914-271-4141 from September 2010.
Scholarship contest entry rules follow. For further information on the scholarship contest, visit http://www.campshane.com.
The Camp Shane Nikki Blonsky Scholarship
Official Rules
No purchase necessary. Void where prohibited. Some restrictions apply.
The Contest: From August 9, 2010 through May1, 2011, Camp Shane will promote the opportunity to submit entries to win The Camp Shane Nikki Blonsky Scholarship as detailed below.
Eligibility: In order to submit an entry, the contestant must be between the ages of 12-18 as of June 1, 2011. Each entry must be signed by the contestant's parent or legal guardian and parents must include their email address and contact phone number. That signature will serve to attest that the contestant has their parent or legal guardian's permission to enter the contest.
Each contestant may enter the contest only once.
Any individuals (including, but not limited to, employees, consultants, independent contractors, and interns) who have, within the past six months, performed services for Camp Shane, ABC Family, Nikki Blonsky, or organizations responsible for sponsoring, fulfilling, administering, advertising, or promoting the contest or supplying the scholarship, and/or their respective parent, subsidiary, affiliated and successor companies, and immediate family and household members of such individuals, are not eligible to enter. "Immediate family members" shall mean parents, stepparents, children, stepchildren, siblings, step-siblings, or spouses. "Household members" shall mean people who share the same residence at least three months in one calendar year.
How to enter: Contestants must submit, by email or regular mail, a full length photo and a 250-word or less essay about why they want to and should win a scholarship to Camp Shane, a weight loss camp for teens, for a nine-week session during the summer 2011. Financial hardship will be a factor in choosing the winning entry.
Please include contestant's complete mailing and email addresses and phone number, so that the winner may be notified.
Entries should be sent to: office (at) campshane (dot) com or mailed to:
Scholarship
c/o Camp Shane
134 Teatown Road
Croton-On-Hudson, NY 10520
Entries will not be returned and may be used by Camp Shane for any purpose and in any media in perpetuity.
How to win: The scholarship winner will be selected by Nikki Blonsky, star of ABC Family's hit show "Huge" from all qualified entries on or about the week of May 15, 2011. In the event that the original winner does not meet official rules or eligibility requirements or fails to meet the acceptance standards for Camp Shane or is unable to attend the summer session of 2011, or he/she or their parent or legal guardian forfeits the scholarship, The Camp Shane Nikki Blonsky Scholarship will be awarded to the next runner-up in the essay contest. This process will continue until the scholarship awarded.
All entries must be received on or before May 1, 2011. The selection will be held during the week of May 15, 2011. Decision of the judge is final. The scholarship winner will be notified by phone and/or mail and must meet all eligibility requirements.
By entering, each contestant agrees to be bound by the official rules. Camp Shane, its promotional agents and contest co-sponsors are not responsible for illegible, lost, delayed or misdirected mail, errors in faxes or shipments, busy phone signals, or incomplete entries.
The scholarship winner must complete all regular admission procedures for Camp Shane (including a signed medical permission slip from a licensed physician attesting to the fact the contestant is able to attend Camp Shane, a personal history form and a financial needs form.)
Grand Prize: One contestant will receive a Camp Shane Nikki Blonsky Scholarship good for one nine-week stay at Camp Shane, in Liberty, New York for use during the summer 2011. Room and board at Camp Shane are included. Travel/ transportation or incidental costs are not included in the scholarship. The nine-week period specified in the scholarship is for the session commencing June 22, 2011 and ending August 20, 2011. Total value of the scholarship is $8300. There are no other prizes.
The scholarship is non-transferable. There may be no cash or other substitutions of prizes by winner. However, Camp Shane reserves the right to substitute a similar scholarship of equal or greater value in the event the above prize is unavailable for any reason. The individual, parent or legal guardian of winner is solely responsible for all applicable federal, state and local taxes with respect to the entire prize.
The parent or legal guardian of the winning contestant must sign an Affidavit of Eligibility, Release and Indemnification Form ("the Form") that : a) releases, indemnifies and holds harmless Camp Shane, its parent, affiliated, subsidiary and successor companies, and its respective officers, directors, employees, agents, and representatives, advertising agencies and promotional sponsors (collectively the "Release") from and against any and all harm, expense, liability or injury that may be sustained relating to or arising from participation in the contest or acceptance or use of the scholarship; and b) authorizes Camp Shane's representatives to interview and photograph the winner and to use the winners' names, likenesses, photographs, voices, interviews, and biographical data for any purpose, in any media, unless prohibited by law. The Scholarship will not be released until Camp Shane receives all required documents. Failure of the scholarship winner to return the forms within the required timeframe will result in automatic forfeiture of the scholarship and the scholarship shall be awarded to an alternate winner.
Unforeseen Events: Camp Shane reserves the right to change this contest at its sole discretion at any time that Camp Shane become aware of any circumstances or occurrence which would materially affect the contest's security or fairness. Camp Shane reserves the right to announce any contest rules changes on the internet over the air, in print or posters. Camp Shane is not responsible for the inability of the winner to accept the scholarship for any reason.
List of Winners: For a copy of the winner list, send a self-addressed, stamped envelope to: Scholarship c/o Camp Shane 134 Teatown Road, Croton-On-Hudson, NY 10520. In your request, state that you would like a copy of the "winners list" for The Camp Shane Nikki Blonsky Scholarship.
*Photo attached. Video available.
Contact: Ziporah Janowski- 845-292-4644 or ziporah (at) campshane (dot) com
###