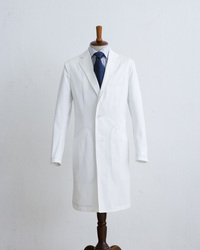 Tokyo, Japan (PRWEB) August 11, 2010
The lab coat Classico Tailor of Classico Inc., the designer, manufacturer, and seller of stylish lab coats (Shibuya, Tokyo / CEO Arata Ohwa) has been awarded first prize in the Medical Furniture category of the 2009 International Design Awards.
The International Design Awards exist to celebrate the world's most visionary designers, discover new and emerging talent, and promote the appreciation of design worldwide. Architects and designers of interiors, fashion, products, and graphics submitted over 1000 entries from 52 countries throughout the world, proving IDA's global emphasis.
The lab coats of Classico are designed by the highly credentialed Creative Director, Nobuo Ohmameuda. The creative director focuses on the finer aspects of the coats to create a truly custom, tailored feel. The stylish lab coats which are manufactured based on Italian tailor techniques, allows both the silhouette and fit to feel as if wearing a stylish suit. The lab coats have a slim and stereoscopic silhouette, and are perfect to choreograph elegance, expensive-lookingness, and stylishness which cannot be seen in other ordinary doctor coats of mass-manufacture.
The doctor coats are made from sturdy, soft material and are lined with a softer shirt fabric. It is also carefully coated with the antibacterial protection necessary for the use in hospital environments. The quality and customization of the doctor coats make them highly desirable for doctors, creating a new fashionable trend in the medical scenes.
Judging was a rigorous process, with winners receiving publication of their work in the 2008 International Design Awards art book, to be distributed to museum bookstores nationwide; promotion to 100,000 design professionals and potential clients worldwide; year-long coverage on the International Design Awards website; and critical acclaim by our distinguished panel of judges.
Jurors included Qingyun Ma, Dean of Architecture, University of Southern California; Gwynne Pugh, Pugh+Scarpa Architects; Kahi Lee, Host, HGTV's "Design on a Dime" and Style Network's "My Celebrity Home"; Rido Busse, Chairman, German Industry and Trade Board; John Dunnigan, Chair, Department of Furniture, Rhode Island School of Design; and Brandusa Niro, Editor-in-Chief and Founder, Fashion Week Daily; and other leaders and editors in the design fields.
For additional information regarding the products and techniques of Classico, Inc., contact Arata Ohwa or visit the website.
About Classico, Inc.
Classico, Inc., founded in 2008, uses traditional technique as well as innovative ideas to create tailored and stylish doctor coats suitable for everyone.
Contact:
Arata Ohwa
CEO
Classico, Inc.
pr (at) classicolabcoat (dot) com
Jingumae 5-47-15-303, Shibuya-ku,
Tokyo,Japan
http://www.classicolabcoat.com/
# # #