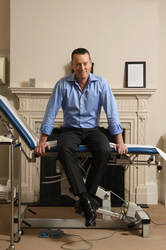 " This new early HIV testing service with blood sampling in the privacy of a patients home is a further very important step towards making early HIV testing a universal possibility in the UK. Home HIV testing represents a further part of the Freedomhealth
(PRWeb UK) August 5, 2010
Early HIV testing is readily available in London UK but availability is limited or patchy through the rest of the UK. A new early HIV testing clinic Home Visit Service is now available across the UK provided via clinicians at London's Private HIV and Sexual Health Clinic, Freedomhealth. A full range of state of the art very early HIV blood testing including the HIV DUO test and HIV 1 and 2 RNA PCR test is offered. Freedomhealth continues to offer a comprehensive, dedicated expert early HIV test and treatment service at its London Clinic.
The HIV testing emphasis in the UK has been passive to date with HIV testing facilities offering antibody testing at a three month interval to the majority of patients who request HIV tests. The arrival of new testing modalities such as the HIV 1 and 2 RNA PCR test and also new logistical approaches to HIV blood sample collection means that Freedomhealth has a truly UK – wide national reach with dedicated, experienced phlebotomists providing a bespoke blood sampling service.
Dr Sean Cummings commented " This new early HIV testing service with blood sampling in the privacy of a patients home is a further very important step towards making early HIV testing a universal possibility in the UK. Home HIV testing represents a further part of the Freedomhealth continual Sexual Health development strategy"
Lack of privacy, difficulty with appointment times, unhelpful GUM clinic staff, lack of availability or knowledge of the most modern HIV tests make take up rates for HIV testing amongst groups most at risk relatively poor.
How does the early HIV Testing Home Visit Service Work?
Freedomhealth is renowned for its innovative approach in the HIV and STD testing arena. The new service entails a patient making a telephone consultation with one of our expert, friendly and extremely knowledgeable doctors. This appointment is charged at our standard telephone consultation rate. Full details of the possible HIV exposure or risk event are taken and discussed and the doctor will provide a detailed risk assessment. During the telephone consultation the doctor and patient will agree a strategy to go forward with.
Blood testing for HIV and other blood borne viruses is well established to be far superior to oral testing. Oral testing kits are not licensed for use in the EU because the total test process does not meet CE requirements. They are not indicated for HIV diagnosis in the UK or EU.
Smart well-trained and fully insured phlebotomy services.
The agreed strategy between Freedomhealth and the patient may involve testing using a number or even combination of different HIV and STD tests. Blood testing is commonly required and we will arrange for a specialist phlebotomist to attend the patients preferred address at home, office, hotel or airport all over the UK. The phlebotomists are specialists in taking blood samples and are hand selected for their caring, customer centred approach. All phlebotomists are extensively trained, fully insured, fully conversant with infection control and risk minimization procedures and attend by appointment in smart casual attire.
Early testing for HIV infections will allow for reduction of onward transmission of HIV by more than 50%. Plasma HIV RNA PCR testing allows for very early identification of new HIV infection well before HIV antibody tests may become positive. Typically after new HIV infection, antibodies will take 2 to 6 weeks to form and become detectable. The detection of antibodies will vary depending on the individual patient's immune system but also on the quality of the HIV test and which generation HIV test is used. Modern third generation HIV tests will correctly identify greater than 99% of newly acquired HIV infection by 6 weeks post exposure. By contrast, the HIV 1 and 2 RNA PCR test will correctly identify greater than 99% of new infections at 7 days after exposure.
# # #