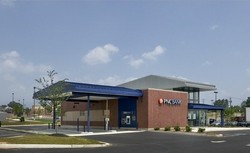 We have continued to evolve our innovative approach to eco-friendly business practices and we have momentum with 14 additional locations awaiting certification by the USGBC
Washington, DC (PRWEB) August 9, 2010
The U.S. Green Building Council (USGBC) has certified 20 more of PNC Bank's Green Branch® locations in seven states plus the District of Columbia based on environmentally friendly construction and design.
This boosts PNC's total to 97 Leadership in Energy & Environmental Design® (LEED) certified green buildings, including its first certified projects in Baltimore, Chicago, Florida, St. Louis and Washington, D.C.
In 2002 PNC became the first major U.S. bank to design and build environmentally friendly LEED-certified bank branches in the United States and has more newly constructed certified green buildings than any company on Earth.
PNC (NYSE: PNC) is the only bank permitted to use the term Green Branch® based on the registered trademark granted by the U.S. Patent & Trademark Office. The trademark is affirmation of PNC's leadership and commitment to green business practices.
"We have continued to evolve our innovative approach to eco-friendly business practices and we have momentum with 14 additional locations awaiting certification by the USBGC," said Gary Saulson, PNC's director of corporate real estate.
The bank's newly constructed Green Branch® features include:

Materials: more than 50 percent of the branch is locally manufactured or made from recycled or green materials.
Energy & Water Efficiency: energy usage is reduced 35 percent or more compared to a traditional branch; water usage is reduced by as much as 4,000 gallons a year and window walls are three times more efficient than code.
Pollution Control: construction waste is recycled or salvaged and the cooling system is designed to protect the ozone.
All 97 certified locations, including 81 for new construction (LEED-NC and 16 for interiors (LEED-CI) can be found via http://www.pnc.com/green. The newest certified locations include:
Florida
East Linton – 500 Linton Blvd., Delray Beach (LEED-NC)
Illinois
Franklin & Adams – Chicago (LEED-CI)
Monroe & Dearborn – Chicago (LEED-CI)
Hinsdale – 920 North York Road (LEED-CI)
Maryland
Harbor East – 100 Fleet St, Baltimore (LEED-CI)
Charles Village – 12 E. 25th St., Baltimore (LEED-CI)
Paca Street – 426 West Baltimore St., Baltimore (LEED-CI)
Westminster Crossing – 406 Englar Road, Westminster (LEED-CI)
Missouri
Page and Grand – 3526 Page Blvd., St. Louis (LEED-CI)
New Jersey
East Windsor – East Windsor, 440 Route 130 (LEED-NC)
Merchantville – 26 W. Maple Ave. (LEED-CI)
Prudential Arena – 46 Edison Place, Newark (LEED-CI)
Hoboken – Maxwell Place, 1145 Maxwell Lane (LEED-CI)
Pennsylvania
Newtown – Newtown II, 2500 South Eagle Road (LEED-NC)
Yardley – Octagon Center, 91 Oxford Valley Road (LEED-NC)
Bethlehem – Plaza on Eighth, 1481 Eighth Ave. (LEED-NC)
Virginia
Fredericksburg – Celebrate Virginia South, 1001 Gordon W. Shelton Blvd. (LEED-NC)
Woodbridge – Potomac Town Center, 14910 Diamond View Way (LEED-NC)
Centreville – Sully Station, 5321 Westfields Blvd. (LEED-NC)
Washington, D.C.
West End – 1100 25th St. NW (LEED-CI)
The PNC Financial Services Group, Inc. (http://www.pnc.com) is one of the nation's largest diversified financial services organizations providing retail and business banking; residential mortgage banking; specialized services for corporations and government entities, including corporate banking, real estate finance and asset-based lending; wealth management and asset management. Follow @PNCNews on Twitter for breaking news, updates and announcements from PNC.
# # #