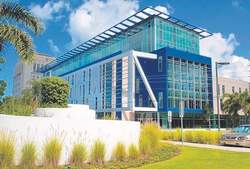 With the multiple types of high-performance glazing systems, this was an exciting challenge
Sarasota, FL (PRWEB) August 8, 2010
The public relies on police to be hard at work all day, everyday. The police force, in turn, needs a building that is just as dependable as its officers; and that is exactly what the city of Sarasota got in its new Sarasota Police Headquarters. To create a sustainable building that is safe and secure – even in the face of hurricanes or other disasters – architects and general contractors turned to impact glass from Key Glass, LLC, one of Florida's largest and most reliable glazing contractors.
According to project architects at Architects Design Group, Inc. (ADG), the design for the new six-story building "responds to the need to be a sustainable, survivable, open and inviting public building that maintains all critical functions 24 hours per day, 365 days per year during any event." The resulting building features glass in a starring role.
The concrete building is clad with a six-story high-performance glass curtain wall. To protect the building and ensure its functionality even during hurricanes or other storms, Key Glass supplied and installed powerful impact resistant glass. Although it looks like normal glass, impact resistant glass has a tough plastic interlayer that keeps strong winds and even hurricane-blown debris from penetrating the building shell. The curtain wall also features a high-performance Low-E coating to maximize the building's energy efficiency.
To enhance public and police protection inside the new building, Key Glass supplied and installed bullet-resistant and fire-rated glass. Between the exterior and interior glass, Key Glass supplied and installed 40,000 square feet of glass to the project.
"With the multiple types of high-performance glazing systems, this was an exciting challenge," says Justin Burkhart, one of Key Glass Project Managers. "We had a staff of 15 people dedicated to completing the curtain wall, storefront and interior systems that will offer Sarasota's police officers and visitors the highest level of protection."
Not only does the glass offer the building the highest levels of protection, but it helps create what the architects dubbed a "visual icon for the public." The large glass curtain wall creates views of the park for building occupants, while from outside, the colored glass offers an interesting urban backdrop for park users.
Key Glass worked closely with construction manager Kraft Construction of Sarasota to complete the project. Construction was complete at the end of June, and with the help of its high-performance glass, the building is now seeking LEED certification.
For additional information, visit http://www.keyglass.com, call 941-755-3414
About Key Glass, LLC
Founded in 1992, Bradenton-based Key Glass is one of the largest commercial glazing contractors in Florida. The company offers a full portfolio of custom and conventional glazing products, including curtain walls, storefronts, windows, hurricane impact systems, and entrance doors.
Known for their quality of glazing products and on-time performance, Key Glass partners with some of the best in the business including PPG, Kawneer, YKK, Oldcastle Building Envelope and Viracon. For additional information, visit http://www.keyglass.com or call 941-755-3414.
###