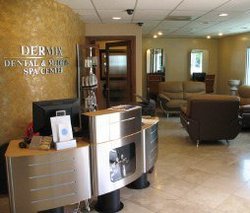 Sally Kashani DDS is the go-to Hollywood Dentist for those seeking the latest in state-of-the-art dentistry in a warm, lux and inviting space fit for a celebrity
North Hollywood, CA (PRWEB) August 10, 2010
Hollywood is the land of the perfect smile. Whether you're attending a star-studded premier or doing lunch with studio execs, the perfect smile lends itself to a great first impression. Located in Toluca Lake, California and situated between two major film studios, Universal and Warner Brothers, Sally Kashani DDS is the go-to Hollywood dentist for those seeking the latest in state-of-the-art dentistry in a warm, lux and inviting space fit for a celebrity.
Dr. Kashani, a graduate of UCLA Dental School, completed two years of a residency program at the Veterans Hospital in Los Angeles and has had extensive training in general, restorative, cosmetic and implant dentistry. In Summer 2010, Dr. Kashani opened the doors of Toluca Lake Dental with a desire to revolutionize the experience of visiting the Dentist. Offering a full line of cosmetic services including veneers, teeth whitening (Opalescence BOOST), implants, periodontal care, Invisalign, laser, custom snore guards, sedation dentistry, and even night dentistry, Dr. Kashani's office is a full service dental spa satisfying the most discerning client's needs.
The office of Dr. Kashani DDS is located in the Dermix Dental & Medical Spa Center building. The building is also home to other cosmetic, and skin care experts, and a true haven for those desiring all their beauty needs to be met under one roof.
For more information about the office of Sally Kashani DDS please visit: http://www.hollywood-dentist.com.
###