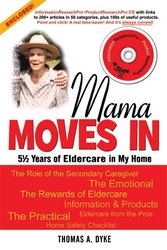 Dyke's stated goal is, " to make searches for and access to elder care information and products quick, easy and always current."
Austin, TX (PRWEB) August 10, 2010
Tom Dyke, author of Mama Moves In and builder of the ResearchPro databases, has set a New Standard for delivering elder care information to millions of Baby Boomers and others faced with providing in-my-home elder care. Traditional methods of delivery are subject to "information aging". The minute books and static databases are published they start aging—going out-of-date. Dyke has cleverly avoided the published data "information aging" problem by putting the ResearchPro databases online and using both managed updates and Internet updates to avoid the "information aging" problem.
Mama Moves In, published by Dyke Publishing, is routinely updated by staff and by automatic Internet searches to assure that data is always current. Dyke Applies a similar method to two databases—Information ResearchPro for elder care information and Product ResearchPro for elder care products.
Years of experience in the litigation support industry rewarded Dyke with the know-how to construct complicated databases that stay current over time. Dyke built databases covering hundreds of thousands of documents that had to have multiple and quick search access. Working with hundreds of terms applicable to elder care, thousands of articles applicable to elder care and hundreds of thousands of products for elder care was according to Dyke, "a piece of cake."
During years of research, Dyke accumulated and organized by category hundreds of elder care articles under almost every category associated with in-my-home elder care. Dyke put the categories in an alphabetical list for Users. Users Click on a category and pertinent articles in the category are listed instantly with descriptions and sources to aid easy selection by users. Another Click and Users have instant access to the article of choice.
Dyke went through a similar process building the product database. After researching the products needed for in-my-home elder care, Dyke listed the products, where in the home they are used and how they are used, combined the lists into one large list and arranged them alphabetically. Next, Dyke matched the products with online stores that sell them to complete the products database. To complete the process, Dyke visited the stores online and selected a manageable number of online stores for each category. The result is an online shopping mall for each category. Products within each category can be shopped for price and quality and purchased for delivery to the User's home.
Dyke noted that the ResearchPro database tools give utility to Mama Moves In and Mama Moves In provides context for the ResearchPro database tools.
Dyke's stated goal is to make searches for and access to elder care information and products quick, easy and always current. For More Information about Mama Moves In and the ResearchPro databases, go to: http://www.MamaMovesIn.com.
###