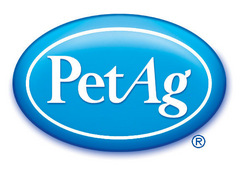 "By continually testing and revising our formulas, we can bring the best alternatives to the market for our pet companions, and can educate our consumers on how best to care for their pets' nutritional needs," - Darlene Frudakis
Hampshire, IL (PRWEB) August 10, 2010
PetAg today announced the creation of a comprehensive program designed to inform and educate consumers on pet nutrition safety and proper storage of their newly improved KMR and Esbilac powdered milk product for infant animals.
As part of PetAg's Safety Education Program, they have revised the packaging to provide consumers with even clearer instructions for handling and storage. Consumers can sign up on PetAg's website to receive emailed updates on product information and educational materials.
PetAg's 70-year history of innovation in the manufacturing of pet nutrition products has led them to be one of the most trusted manufacturers of pet products in the USA. Their products have been used to care for millions of animals worldwide. As a trusted partner of pet owners and veterinarians, PetAg continually examines all of their products and processes to ensure best practices and best nutrition for pets.
In this economy when people are looking to trim costs in every possible corner, pet professionals and pet owners may hold onto product beyond the "best by" date, or longer than advised on labels after opening. Recent FDA announcements on infant animal nutrition safety indicate that consumers should follow labeled advice completely in order to insure their pets' safety. It is also vitally important to store unopened or opened cans above at the recommended temperature to avoid degrading the product quality.
As with human infants, animals depend upon milk as their only source of nutrition in the early weeks of their lives. When pets are unable to nurse from their mother, milk replacement products such as PetAg's KMR® or Esbilac® offer excellent alternatives to allow pets to get off to a good start in life. Much like formula for human infants, or any other milk product, these products have a finite shelf life, and should be used quickly once opened or prepared. This information is readily available on packaging for all products. Best-by dates only apply to manufacturer sealed products that have not been opened. The FDA advises that anyone who is concerned about the safety of a product should contact the manufacturer for further instructions and advice.
With decades of innovation and advancements behind them, PetAg brings unquantifiable knowledge to the field of pet nutrition.
"We take our place as a market leader seriously," said Darlene Frudakis, president and COO of PetAg. "By continually testing and revising our formulas, we can bring the best alternatives to the market for our pet companions, and can educate our consumers on how best to care for their pets' nutritional needs," continued Frudakis.
PetAg urges consumers to review labels on stored cans to determine if they have reached or surpassed the use by date, and if so return the product to PetAg for a free replacement. PetAg also encourages consumers to contact the company at anytime if they have mixing, product storage or usage questions call 1 (800) 323-0877.
About PetAg
Founded in the 1930s, PetAg, Inc, is a leading manufacturer of high-quality pet nutrition and other pet products. Headquartered in Hampshire, Illinois, this woman-owned company has brought pets and their owners some of the most recognizable brand names in the industry.
PetAg products cover a wide range of animals through every stage of the life cycle. From newborn care including the scientifically balanced neonatal milk replacers, Esbilac® and KMR®, to senior pet care supplements including CatSure® and DogSure® which lead the category. PetAg's health and fitness categories include dog chews Rawhide Brand® and Chunky Chews® for dogs, DogSlim® and CatSlim® weight management program of supplements and nutritional dog treats and cat treats, and Hawaiian Delights® edible treats and toys for birds. Each of the product categories has the same focus: to enrich and prolong the lives of pets worldwide. You can find tips on Health, Fitness, and Fun For Pets on their new blog. For more information on PetAg, visit http://www.petag.com.
# # #